Tourism is one of Laos' major income earners. And it is said that Laos was drastically affected by the sudden drop in tourists coming in to the country. However, The Laotian Times has discovered based on a source from the Tourism Ministry that despite the decline in the amount of visitors (some estimates say by as much as 10 percent), the total revenue gained from tourism has merely dropped by no more than 1 percent.
The drop in visitor numbers were attributed to fewer nationals coming from Thailand (13 percent decrease), Vietnam (16 percent decrease) and Cambodia (20 percent decrease).
The government plans to launch several tourism awareness campaigns targeted at high spending travelers, namely in countries such as Germany and Japan.
In 2015, Laos received 4.6 million visitors, which helped generate USD$725 million but dropped slightly a year later (2016), making US$724 million with only 4.2 million tourists.
While the number of nationals from its neighboring countries has dropped, Laos was quite fortunate to have received larger swathes of Chinese (7% increase), Japanese (12% increase) and Korean (5% increase) tourists. These North Asian tourists are considered to be comparatively bigger spenders. Interestingly enough, Taiwanese have more than doubled their visitors to Laos (from slightly over 6,000 to approximately 14,000). Europeans, on average, are traveling more and more to the country, with a total of a 2 percent increase over the past year.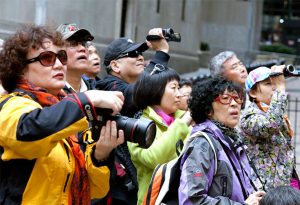 This year, the Lao government expects a total of 4.8 million people to visit Laos, contributing to the country a total of USD $843 million.
With the Visit Laos Year 2018 national campaign, the Lao government hopes to attract at least 5 million people and rake in USD $900 million.