Last week, the United States Government handed over vehicles and field equipment worth USD $1.25 million to the Lao National Unexploded Ordnance Programme. Some 15 Toyota Landcruisers, 150 UXO detectors and other equipment will be given to the UXO clearance teams in the southern Lao provinces of Khammuan, Savannakhet and Attapeu to prevent local residents from being injured, disabled or killed.
The supplies were handed over at a ceremony held last week and were graced by the attendance of U.S. Ambassador to Laos Rena Bitter and Khamkeo Sanbounkhounxay, Lao Vice Minister of Labor and Social Welfare.
"Today's contribution to UXO Lao is part of the United States' commitment of USD 90 million over three years to fund a national cluster munitions survey, in addition to ongoing clearance of UXO," said Ambassador Bitter.
"Unexploded ordnance continues to affect Laos. Over the years, thousands of people, usually rural people and their children, have been killed or injured by suddenly exploded UXO," Vice Minister Khamkeo said.
"Since 1990, the U.S. government has granted more than USD $135 million for UXO clearance and surveys, to help the victims of UXO-related accidents, and provide information about the risks of unexploded ordnance," Khamkeo added.
According to the Lao National Unexploded Ordnance Programme, in over 20 years of the programme's implementation, more than 380 square kilometers of land have been cleared for safe use, enabling schools, water supplies and roads to be built.
More than 1,480,000 items of unexploded ordnance were destroyed from 1996-2016 in Laos.
In 2016 a total of 67,166 UXO items were destroyed by the Lao National Unexploded Ordnance Programme's clearance operations.
According to statistics from Lao authorities, from 1965 to 1973, the United States dropped some two million tons of ordinance on Laos during the Vietnam War, including 2.7 million cluster bombs which are designed to break apart and release a payload of smaller bombs. As many as 30 percent of these bombs did not explode.
Laos is the most heavily bombed country in the world per capita. Over the years, thousands of Lao people have been killed or injured, usually farmers tending their fields and children playing.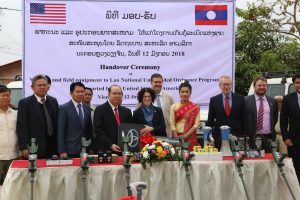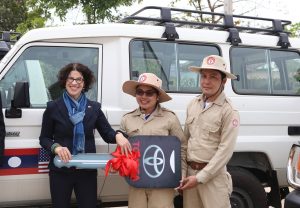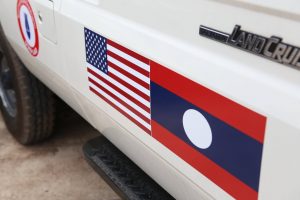 Source: Vientiane Times, US Embassy Vientiane, Infosurhoy
Photos: US Embassy Vientiane Facebook Page