Earlier this week, Vientiane Province signed an agreement with Ichin Engineering & Construction Lao Company, authorizing the latter to invest USD $200 million into developing the former Vang Vieng airport into a tourist destination. Attending the signing ceremony were Vidong Sayasone, Vientiane Province Governor, Vientiane Province Planning and Investment Department Director Soukun Vilayrath, Ichin Engineering & Construction Lao Company President Liu Phuc Quang and other local government officials.
"Immediately after this auspicious signing ceremony, our firm is already preparing to contract a company capable of designing an entire commercial tourism space consisting of a 5-star hotel, a hospital, a tourism academy, and a multi-ethnic cultural theater among others. The site of the project will be the former Vang Vieng airport, covering a land area of 16.24 hectares. The construction is expected to take 5 years, out of an overall 50-year concession from the government with an investment total of USD $200 million," says Liu Phuc Quang.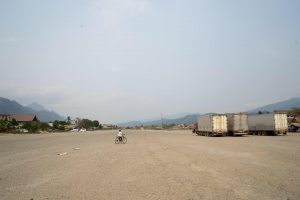 "We expect tourism to boom in Vang Vieng when the Laos-China railway is complete. Travelers from China will be able to conveniently reach Vang Vieng since there will be a station here. We want to capitalize on this future market by investing in something that will attract their attention," says Quang.