On Tuesday, a Thai criminal court handed down life imprisonment charges to drug ring leader, Xaysana Keophimpha on the charge of illegally trafficking 1.2 million methamphetamine pills to Thailand, after initially being sentenced to death. However, the punishment was reduced due to his cooperating with the authorities – specifically, his confessing to several other past charges of drug trafficking.
According to a judge, it was evidence pulled from mobile phones that linked Xaysana with a smuggling network that used Nong Khai, the Thai border point with Laos, to move drugs south.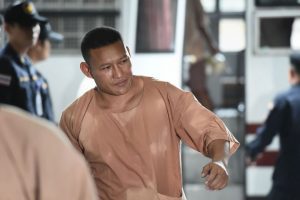 Xaysana Keophimpha was the subject of much media scrutiny ever since his arrest at Suvarnabhumi Airport on the 19th of January. Lao, Thai and regional media brought to light stories of his rumored connections to powerful and influential factions in government and society in every country in which he conducted his illegal operations. Images of his ostentatious lifestyle have gone viral on social media in Laos where the majority of the public have condemned his actions.
Since then, he has been detained at the Central Correctional Institution for Drug Addicts in Thailand, awaiting his trial and subsequent sentencing. Standing handcuffed in his prison uniform, Xaysana did not react as the verdict was delivered. He faces another trial for possession of 3.3 million "yaba" pills which is expected to start in July.
Source: Bangkok Post