It is estimated that more than 100 million disposable plastic water bottles are consumed by travellers every year in Laos. Most of them are not recycled. In many areas of the country, where waste management systems are not available yet, people burn their waste. Open burning of plastic waste is a major source of air pollution and releases toxic gases that can cause serious health problems such as cancer, impotence and asthma.
The tourism industry in Luang Prabang is leading a campaign to reduce single-use plastic water bottles. Many hotels and tour operators, restaurant and cafes, museums and other businesses in the town center offer safe drinking water refill stations. Both visitors and residents can easily refill their bottles at their premises for free, or pay less than buying a new plastic water bottle. This campaign is led by the Department of Information, Culture and Tourism of Luang Prabang, Luang Prabang Travel Agents Association and Luang Prabang Hotels and Restaurants Association and is supported by Luang Prabang – Handle With Care Project which is co-funded by the European Union as part of the EU SWITCH ASIA II Programme and implemented by GIZ.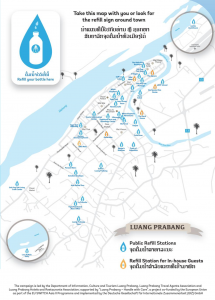 Moreover, a handful of businesses in Luang Prabang have initiated their own plastic bottle boycott with the Refill Not Landfill initiative. Their objective is simple: give tourists the opportunity to help eliminate plastic bottle waste in the UNESCO Heritage City.
"I asked a few businesses if they wanted to pool resources to buy non-plastic reusable bottles to do our bit in reducing plastic bottle waste in Luang Prabang, and also to help make guests aware," said Paul Burnett, General Manager of the Sanakeo Boutique Hotel & Spa.
The Refill Not Landfill group purchased light gauge stainless steel bottles, which the individual businesses offer to their guests and customers.
Burnett said the Refill not Landfill initiative complements Luang Prabang's ongoing reusable bottle efforts by targeting tourists.
"Tourists can refill their bottles at some 30 stations around the city," he said, "And, they go home with a lovely souvenir of their time in Luang Prabang."