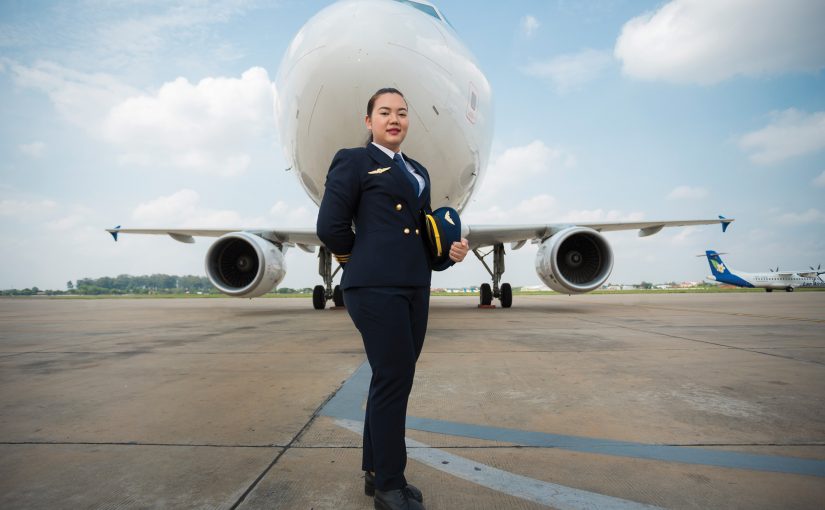 Standing on the baking hot tarmac at Vientiane's international airport on a May afternoon, Soudaphone Visounnarath doesn't quite know what to do with her arms. She's a bit embarrassed to don the pilot's cap she rarely wears, and is a tad uncomfortable in her full uniform outside on such a hot day.

But when the photographer's shutter starts clicking, her chin lifts and she looks every bit the authoritative, in-control pilot that she is.
And she doesn't seem remotely fazed to be the country's first female pilot, at the age of just 24. Her father spent his career as a flight engineer for Lao Airlines, and Manoy, as she's known, remembers a house full of technical talk and aeroplane paraphernalia.
So when, as a teenager finishing school, she saw an ad for pilot training with Lao Airlines, it seemed like it would be the perfect fit.
"I like to fly and I love to travel. So I applied, passed the examination, and got in," she says. It was as simple as that, although the two-year course was, not surprisingly, incredibly challenging.
She and her fellow students had to learn, in minute detail, everything about aeronautical engineering, about aircraft, about navigation and meteorology. They had to fly for the first time in a single-engine plane, then in a multi-engine one.
Being a female pilot in a male-dominated field is tough, she says, but no more so than in any other profession. Manoy spent two years studying in Toulouse, France, as part of her course. And at every phase, she was pretty much the only woman in the room.
"People think it's not the right job for a woman, but actually, most countries have male and female pilots," she says, shrugging. "But it's really quite a new thing in Laos."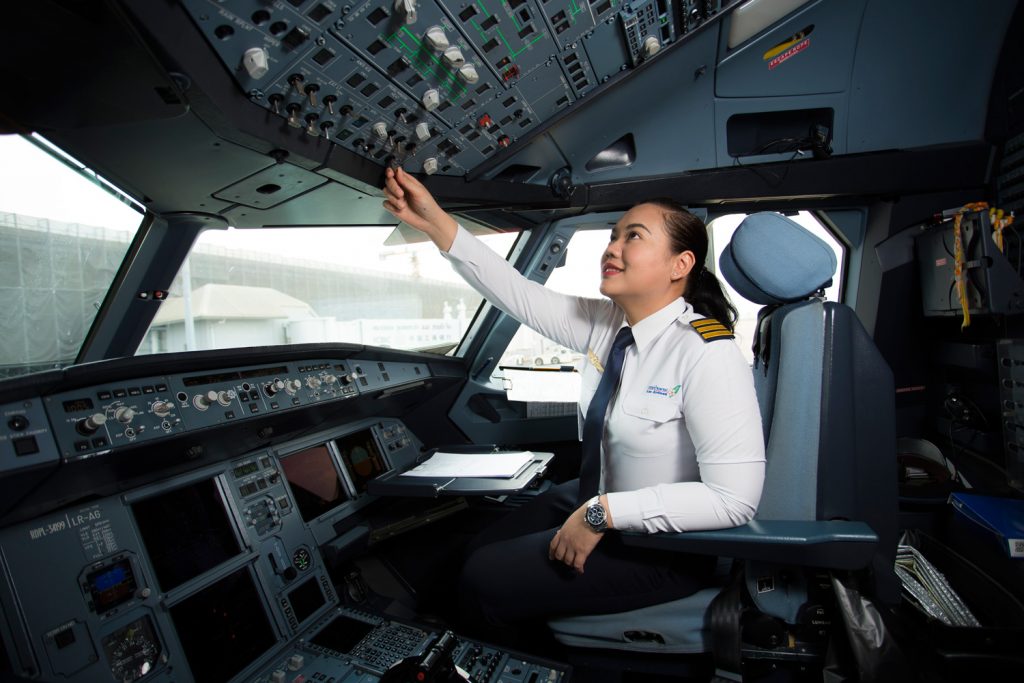 As a mentor to younger aspiring pilots, ahe is already blazing a path for those in her wake; there are two more female trainees waiting in the wings to graduate in Laos.
And nothing took away from the thrill of her first solo flight – April 22, 2014. It was, she says, a big moment for her, and a feeling of release.
"Normally you have an instructor beside, talking and talking, but finally, I could sit back and say, 'This plane is mine!'," she says, although, she adds, that first flight was just one circuit – a take off, turn around and landing.
Nowadays she flies an Airbus A320, mainly on international flights but also to Luang Prabang. She says lots of people are surprised to learn of both the extent and limits to what a pilot needs to know at any one time. For instance, aeroplanes are not like cars; just because you can fly one does not mean you can take command of all others.
Also, while Manoy flies as a First Officer, she has her eye firmly on becoming a fully-fledged captain. But first, she needs to attain the age of 27, and pass more exams. So, three more years to go.
In the meantime, she is more than happy with her own place in the skies over Asia.
"I love to travel and I love to be in the sky," she says.
"When you're in the sky and looking around at the amazing view, it's just so beautiful."
Photos: Phoonsab Thevongsa
Originally Published in: Champa Meuanglao