Officials from the Vientiane Department of Industry and Commerce performed a random inspection at multiple markets such as Kuadin Market, Aussie Market, Phonthong Market and others to ensure that vendors were obeying the ministerial order to not hike up prices during the Pi Mai holiday.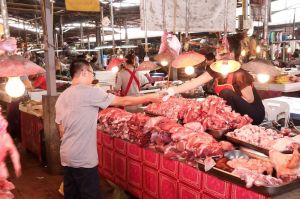 The Vientiane Industry and Commerce Department Head issued a notice not long ago to various market administrators urging them to keep an eye on the vendors regularly to protect consumers during the Pi Mai period.
A special hotline 1625 has been established for members of the public to call in to report "false scale" abuses (where the vendor uses a rigged scale to weigh products sold), arbitrary price hikes, spoiled products, or goods with higher than normal chemicals usage.