Un-Yang-Kor-Dai, a concept from the Thai city of Khao Yai, has recently opened an outlet in Chinatown in South Bridge Road, Singapore.
While its brand positioning is understandably geared towards serving authentic Thai or Isan cuisine, its restaurant name is written in the standard language of Laos, where Isan culture derives a historical commonality. However, the Lao spelling is quite peculiar as there is an apparent discrepancy between the original text in Lao script and its English transliteration, one that would not have been overlooked by an average Lao person.
Although it is common that Thais in the Northeastern Isan region of Thailand may speak and understand Lao language, many do not have full command of the Lao script. This misspelling demonstrates either a lack of awareness regarding the differences between modern Thai and Lao languages, or an uninformed approach that makes the assumption that nobody will notice – or care. While Singaporeans may be linguistically none the wiser, there are seven million Lao (and counting) who regularly travel to both Singapore and Thailand, who could possibly be irritated by this blunder concerning the use of their language.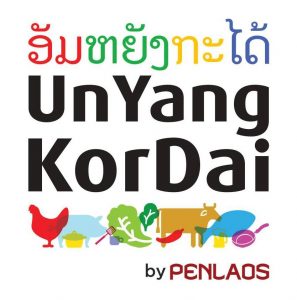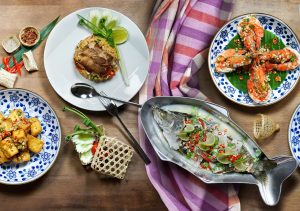 With signature dishes such as the PenLaos Signature Grilled Chicken, Korat-Style Fried Rice Noodles with chicken. The al dente dry noodles are fried on the spot, with a potpourri of Thai chilli paste, fish sauce, bean sprouts and chives.
The restaurant, which adopts an open-kitchen concept and is decorated with community artworks and handicrafts, also makes three special sauces by hand: Isaan Spicy Dipping Sauce, Special Spicy Sauce and Sweet and Sour Sauce. The first sauce is paired with the Isaan Beef Tenderloin Steak for a spicy kick.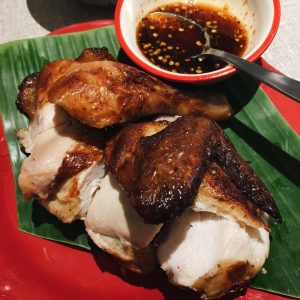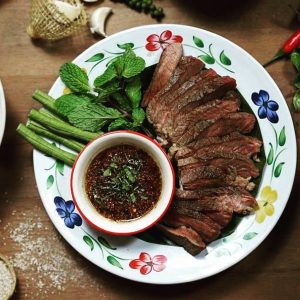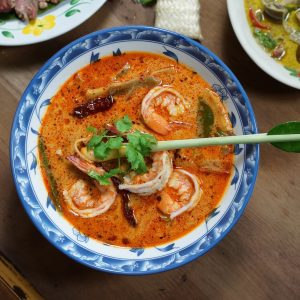 Other dishes include Tom Yum Kung Num Kon with fresh prawns and coconut milk, Fresh Crab With Red Curry Sauce, Steamed Whole Sea Bass In Spicy Lime Sauce, Phad Thai Tom Yum With Seafood, and Grilled Pork Neck.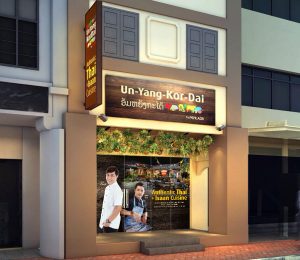 Location: 01-02, 57 South Bridge Road
Opening Hours: 11am to 3pm and 6 to 10pm (Tuesdays to Sundays)
Info: Call 6787-8575, e-mail letseat@unyangkordai.com or go to www.unyangkordai.com
Sources: The Straits Times, Official UNYUNGKORDAI Facebook Page, GreatNewPlaces.com, Burpple.com