The Mekong River's water levels have increased rapidly during the period from July 15 – 24, with a rise of over four meters in some stations along the mainstream. But they are currently not at an alarming level yet.
In the upstream part of Laos in Luang Prabang, water levels have risen from 8.97 meters on 18 July to 13.32 on 23 July, a rise of slightly above four meters. A sudden increase was detected at this motoring station, with a jump from 10.85 to 13.28 meters during 21-22 July.
Water levels in Vientiane monitoring station also have increased from 4.64 meters on 18 July to 9.40 meters on 24 July, representing an almost 5-meter rise in five days. Further downstream of Laos in Pakse, water levels increased by two and a half meters, moving from 7.68 on 17 July to 10.11 meters on 20 July.
In Nong Khai of Thailand, there was an increase of almost five meters, with water levels at the stations climbing from 5.58 to 10.30 meters over this monitoring period. Slightly down the mainstream in Thailand, water levels in Nakhon Phanom station plunged from six meters on 15 July to 9.88 meters on 24 July, indicating an almost 4-meter drop over 10 days. At 10.30am yesterday, the water levels in this station were recorded at 9.949 meters, which is 1.5 meters lower than the alarm level of 11.5 meters and two meters below the flood level.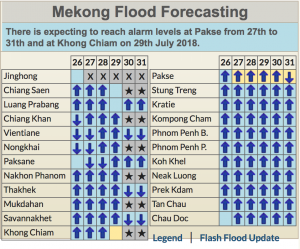 With this continued increase in water levels and possible additional rainfall in the upper part of the basin, Nakhon Phanom and Pakse water monitoring stations may expect to reach their alarm levels (12 meters at Nakhon Phanom station and 11 meters at Pakse station) on 27 and 29 July, respectively.
In Cambodia, three particular water monitoring stations in Stung Treng, Kratie and Kampong Cham all indicated an increase. Water levels in Stung Treng had risen rapidly from 5.25 meters on 8 July to 9.48 meters on 21 July, while in Kratie, the water levels had jumped from 12.5 meters to 19.85 meters over the same period. In Kampong Cham, there was an increase of 6.12 meters, with the water levels moving from 7.05 meters on 08 July to 13.17 meters on 22 July.
The water monitoring stations in Vietnam did not show any increases or worrying trends yet.
Analysis of the Mekong River Commission's data reveals that the rapid rise of water levels are the result of an extremely high level of rainfall from the upper part of Luang Prabang to Vientiane due to the effects of tropical storm Son-Tinh. This caused a rapid rise in the water levels of many of the Mekong's tributaries and resulted in a rapid peak in the mainstream.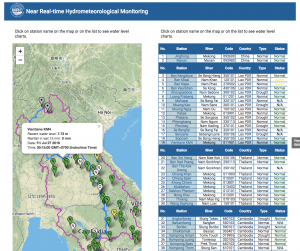 During the flood season, the MRC's Regional Flood Management and Mitigation Center (RFMMC) provides daily flood forecasting for key stations along the Mekong mainstream from Chiang Sean of Thailand to Tan Chau and Chau Doc of Vietnam. The Commission also conducts Flash Flood Guidance over the lower Mekong basin based on Satellite Rainfall Estimate.
Information on flood forecasting and flash flood guidance can be accessed here.
Information on water monitoring at the stations on the Mekong mainstream can also be found here.
Source: MRC