The International Agency for the Prevention of Blindness (IAPB) has recognised Lao PDR ophthalmologist Dr Phetsamone Indara as an Eye Health Hero.
Dr Indara, who performs eye surgery and treatments in partnership with international development organisation The Fred Hollows Foundation, is the first ophthalmologist from Lao PDR to receive the honour.
The Fred Hollows Foundation CEO Ian Wishart received the award on behalf of Dr Indara at an IAPB conference in India this week.
Mr Wishart said Dr Indara was one of only 22 global Eye Health Heroes for 2018.
Since 2005, Dr Indara has headed the Eye Unit of Oudomxay Provincial Hospital in northern Lao PDR and in 2008, he was appointed as the secretary of Lao Ophthalmology Society.
"Over the past 10 years, The Fred Hollows Foundation has been proud to partner with Dr Indara and the Oudomxay Provincial Hospital as we work together to end avoidable blindness in Lao PDR," Mr Wishart said.
Dr Indara has 16 years of experience as an eye doctor. In his first five years of practice, he has already screened 35,325 patients and conducted 3,069 cataract surgeries.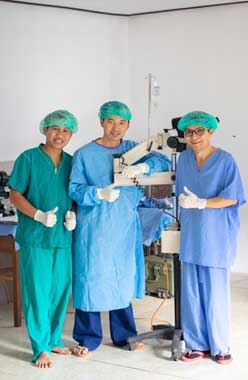 In addition to screenings and eye operations, Dr Indara has played an active role in eye health research and training and has played a leading role in producing Lao PDR's first hand book for primary eye care. The hand book is an essential national resource to train volunteer health workers in primary eye care.
Dr Indara said he was humbled to be named Lao PDR's first Eye Health Hero.
"I love to see people empowered to lead independent lives. I am very happy to be a partner in helping the poor, and treating those who are blind to improve their vision and their quality of life," he said.
"I also hope that future generations of eye health doctors, nurses and workers in Lao PDR can one day be eye health heroes and help end avoidable blindness in our country."
The Fred Hollows Foundation is an international development organisation working to eliminate avoidable blindness worldwide in more than 25 countries around the world. In Lao PDR, The Foundation is active in 10 provinces, including Oudomxay.
For the past 10 years, The Fred Hollows Foundation has helped more than 106,000 people in Lao PDR see again, thanks to the commitment and tireless work of eye health heroes such as Dr Indara.