Traversing the mountainous spine of Laos, Cambodia and Vietnam, three-time world mountain bike champ, US mountain cyclist Rebecca Rusch's eye-opening 2017 documentary Blood Road has won an Emmy, one of US televisions highest honors.
The documentary film brings the less adventurous and athletic of us on a ride to learning more about the trials and tribulations of remote and rural Laos, Vietnam and Cambodia post-Vietnam War (also known as the 2nd Indochina War or American War).
The film won the prize for Outstanding Graphic Design and Art Direction at Tuesday evening's 2018 39th Annual News and Documentary Emmy Awards, helping audiences to understand the ongoing impact of war on Laos. The film was screened at the Luang Prabang Film Festival 2017.
The daughter of a military airman shot down in war, in 2015, Rusch set out on a journey to find her father's crash site with a film crew.
Pairing up with Vietnamese cross-country mountain biker Huyen Nguyen, the pair retrace the 1,200-mile Ho Chi Minh Trail, a historic secret network through Vietnam, Cambodia, and Laos that the Northern Vietnamese used to supply forces in the south.
On their journey, they receive insights and assistance from many locals, keen to welcome and share their stories to create a better future. The film also received logistics support from local and international experts on the ground in Laos and beyond.
The endurance test brings the pair and the audience to face the past and to look to make a positive impact on the present and future.
Blood Road had its BC Premier earlier this year at the 2018 VIMFF.
The American author and ultra-endurance athlete was 24 Hour Solo Mountain Bike World Champion in 2007, 2008 and 2009.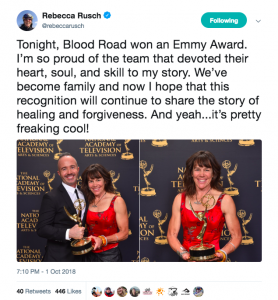 The film attracted warm reviews from the press upon release, including the LA Times,  ESPN and more.