It's been nothing if not an eventful week or so for three Lao citizens who have made their own very distinctive contributions in diverse efforts and fields, strengthening the cultural links and future prospects for people in landlocked Laos and on the Japanese archipelago alike.
Likely the most well-known of the trio among the general public, popular songstress Alexandra Bounxouei (Sandra) was the first of the three to collect home her recognition.
According to her profile, Sandra has been a regular visitor to Japan and been performing in collaboration with Japanese artists since the early 2000s and acted as a goodwill ambassador for educational projects and organizations such as  JICA (Japan International Corporation Association) and PSI (Population Service International), Unicef, WPO and many more.
The multilingual vocalist, violinist and voice actor, studying a PhD in Media Design at Tokyo's Keio University took home a Foreign Ministers' award that was presented in Vientiane by Japan's Ambassador to Laos, Takeshi Hikihara.
The next in line to be honoured was Madame Chantasone Inthavong, who received a Japan International Cooperation Agency (JICA) President Award in Tokyo from JICA president Mr Shinichi Kitaoka.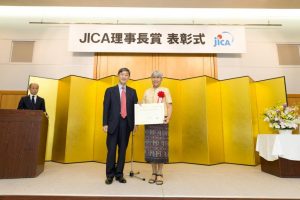 Madame Chantasone is a Japan-based textile expert and founder of the establishment of the Houey Hong Vocational & Training Centre, keeping the skills and spirit of Laos' valuable textile culture alive in their hands of the up and coming generations.
She is also instrumental in the NGO Action with Lao Children that helps to provide books and educational materials to schools and their students in need in Laos.
Last but not certainly least, the third and final awardee Dr Somphou Douangsavanh, a long-serving representative of Laos' National Assembly.
The Chairman of the NA's Cultural and Social Committee, Dr Somphou was awarded the Order of the Rising Sun's Gold and Silver Stars.
The Gold and Silver Stars are the second highest in the Order of the Rising Sun and is typically conferred upon prominent academics, politicians and military officers from both Japan and abroad.
The Order of the Rising Sun was established following Japan's modernizing Meiji Era by the famed Emperor himself all the way back in 1875, and was known as the Imperial Order of Meiji before its renaming.
Mr Somphou was born in Xieng Khuang Province in 1954. He served as the President of the Lao-Japan Parliamentary Friendship Association between 2011 and 2016.
During his tenure as President of the Lao-Japan Parliamentary Friendship Association, Mr Somphou Douangsavanh was said to have made "invaluable contributions to the fruitful cooperation between the two countries through, among others, active exchanges with numerous members of the Japanese parliament".
His award ceremony was attended by current President of the Laos-Japan Friendship Association, Ms Sengdeuane Lachanthaboun, who also serves as Minister of Education and Sports.