Laos' Prime Minister Thongloun Sisoulith was in China's major economic city Shanghai pushing the Made-in-Laos message as the country's policymakers and entrepreneurs seek to leverage increased connectivity to the massive consumer market on its doorstep at the China International Import Expo.
The move comes as Chinese President Xi Jinping said Monday that China's initiative to expand imports as part of its economic transition was "not makeshift, but long-term consideration of embracing the world and future while promoting common development".
The import expo features two exhibitions, the first focusing on the Belt and Road countries' trade and investment opportunities, in sectors including goods and services, tourism and nations' featured products.
The second shines a light on consumer electronics, auto, clothing, food, medical equipment, service outsourcing and education.
Hongqiao International Trade Forum was also set to be held during the expo with state leaders, ministers, heads of international organizations, business representatives and academia.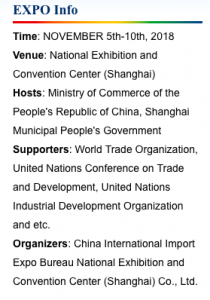 Import Expo Chance for China to Push Economic Opportunity, Vision at Home, Abroad Amid US Uncertainties 
Many countries had seen economic growth via exports to China in the past five years, president of the Chinese Academy of International Trade and Economic Cooperation at the Ministry of Commerce Zhang Jianping told a news conference for the CIIE on Friday.
"China has a large-sized middle class and will become the world's biggest consumer market in a few years. If we increase imports from other countries, it will help many nations involved in the Belt and Road Initiative share in China's rapid growth."
Nations' Leaders meet ahead of Expo
Prime Minister Thongloun met Chinese President Xi Jinping the previous day ahead of the first China International Import Expo (CIIE) opening Monday in Shanghai, China.org.cn reported.
Welcoming PM Thongloun, Xi described the China-Laos relationship as "at its best in history", saying the two countries should carry out closer strategic communication and enhance exchanges on political party and state governance experiences.
In his meeting with the Chinese president, Thongloun said major projects such as the China-Laos railway are being steadily carried out. Laos had gained practical benefits from the joint efforts in developing the Belt and Road Initiative, Thongloun said, expressing thanks for the support and assistance provided by the Chinese side.
Promoting the optimizing and upgrading of practical cooperation and advance the construction of the China-Laos economic corridor was also pushed by the Chinese President, who heralded efforts to ensure the smooth progress in the building of the China-Laos railway, strengthened cooperation in fields regarding people's livelihoods and disaster relief and called for a well-organized China-Laos Year of Tourism next year as well as initiatives under the Lancang-Mekong cooperation framework.