UPDATE: Bokeo's Huayxai Airport is closed until 2020. Runway extension from some 1450 to 1660 metres and resurfacing works are required to welcome larger ATR sized aircraft in response to the increased demand for regional air travel, with work due to be finished in 2020 at a cost of 149 billion kip, the provincial Information, Culture and Tourism Department was reported as confirming to the state-run English daily, Vientiane Times. The Airport services the public, private and tourism sectors in Bokeo province including the popular eco-tourist Gibbon Experience.
Meanwhile, air travelers between Oudomxay province and the nation's capital Vientiane are set to remain grounded in the month of February as the runway of the aerodrome located in the provincial capital Muang Xay gets a much-needed upgrade.
Lao Airlines has informed customers of a suspension to scheduled flights to and from Oudomxay in the month of February 2019 as the provinces' airport's runway undergoes renovation and restoration work.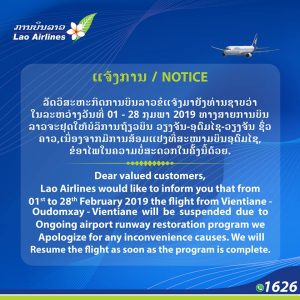 "Lao Airlines would like to inform you that from 01st to 28th February 2019, the flight from Vientiane-Oudomxay-Vientiane will be suspended due to ongoing airport runway restoration program we Apologize for any inconvenience causes (sic). We will resume the flight as soon as the program is complete."
Those with plans to fly to or from the northern province may consider the Vientiane to Luang Prabang leg and completing their journeys by road.