Warm welcome as the arrival of eleven Japan Overseas Cooperation Volunteers from JICA takes Japan International Cooperation Agency past the one-thousand milestone in Laos.
Agriculture and Community Development, Education, Health, Law, Public Works, Water Treatment, Sanitation and Waste Management.
These are just some of the many areas in which Laos has seen rapid development over the decades, making the country a safer, healthier, cleaner and more comfortable place to live.
These important areas are also among the many where contributions of grants, aid, and exchanges with Japan have been warmly welcomed.
This includes technical expertise and assistance thanks to no less than one thousand Japan Overseas Cooperation Volunteers (JOCV).
The millennial milestone was passed when eleven new Japanese volunteers to Laos together with representatives of their host organizations were welcomed to the Embassy of Japan to Laos in Vientiane on February 4, 2019.
Warm welcomes were provided by Ms. Sisomboun Ounavong, Director General of International Cooperation and Minister to the Embassy of Japan to Laos, Mr. Kuno Kazuhiro.
There, volunteers heard of the high regard held for the contributions of JOCV, something recognized by PM Thongloun Sisoulith at a recent event hosting a courtesy call at Government House for World Volunteers Day as reported by Laotian Times.
Members of Japan Overseas Cooperation Volunteers (JOCVs) and Japan's Senior Volunteers (SV) were hosted by the PM for an annual courtesy call and informal exchange on Monday, December 10 where Mr. Thongloun expressed heartwarming appreciation for volunteers' daily efforts.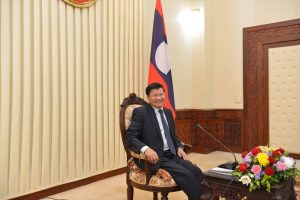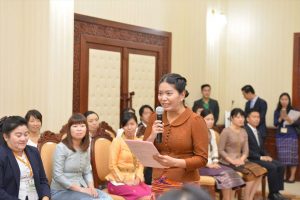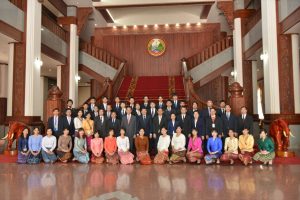 The volunteers reported on their activities and challenges that they directly are facing on the ground while in response, the Prime Minister made comments on the initiatives being made by the Government of Laos.
Thousand volunteers to Laos among 50,000 to 90 countries
More than 50,000 JICA volunteers have been dispatched to more than 90 countries around the world since the first made their trip so many years ago. The numbers include both junior volunteers (aged under 40 years) and senior volunteers (40 – 69 years).
Volunteer programs "support activities by citizens (of Japan) who wish to cooperate in the economic and social development as well as the reconstruction of developing countries," JICA's website states.
"Through these cooperation activities, participating volunteers can not only contribute to the development of partner countries but also gain valuable experience in terms of international goodwill, mutual understanding and an expansion in their international perspectives.
"Widely recognized as a representative Japanese international cooperation program, volunteer activities have not only earned high acclaim from partner countries but are also receiving increased praise in Japan, where expectations for these programs are also rising."
A bridge between diverse people, communities, countries
Find out more about the activities of Japan Overseas Cooperation Volunteers by attending events such as Let's Travel Local LAOS from March 2-3 at Hidden Cafe at Vientiane.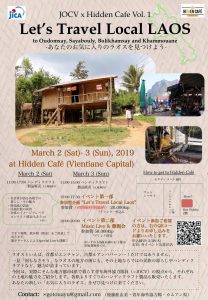 JOCV also likely to be spotted at Cool & Kawaii Japan 2019!

Come along and say Konnichiwa!