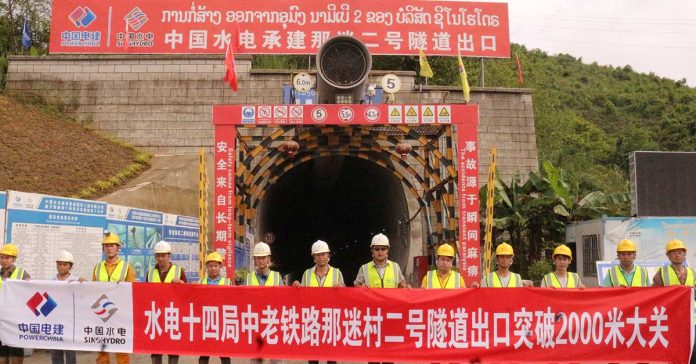 Foreign direct investment (FDI) inflow to Laos decreased in 2018 amid a drop in new investment from China, a recent report has shown.
FDI inflow to Laos last year stood at USD 1.3 billion, a 17 percent drop from the previous year, according to the World Investment Report 2019 by United Nations Conference on Trade and Development (UNCTAD).
Foreign Direct Investment, or FDI, refers to an investment made by a firm or individual in one country into business interests located in another country.
"The contraction was mostly due to a deceleration of new investment from China," UNCTAD said in the report without citing figures.
In 2017, China was the largest foreign investor in Laos, with its investments accounting for 25.2% of the total FDI of the country.
Despite a minor setback, Laos has seen FDI inflow rising over the past few years.
FDI inflow to Laos has increased from USD 427 million in 2013 to USD 721 million in 2014 and USD 1.1 billion in 2015.
After experiencing a slight drop in 2016 to USD 997 million, the figure jumped to USD 1.5 billion in 2017.
Such growth comes amid the Lao government's efforts for "active investment liberalization," the report noted.
Last year, for instance, the country abolished the minimum registered capital requirements for certain foreign investors, according to the report.
It also promulgated a new investment promotion law, offering various incentives to attract investment in both promoted industries and hardship areas.
Laos is one of the regional players that have been using special economic zones (SEZs) as key policy instruments for the attraction of investment for industrial development.
"In Cambodia, the Lao People's Democratic Republic and Thailand, most SEZs have been developed near border corridors with neighboring countries, to promote cross-border trade and investment," UNCTAD said in the report.
UNCTAD also cited Laos as one of the examples countries that have created SEZs to promote tourism or tourism-related industries.
Such zones include the Savan-Seno SEZ, which was developed through a joint venture between Malaysian private companies and the Lao government in 2003.
"Despite its landlocked status, Laos is raising its FDI game as engagement with donors and investors grows," Nick Freeman wrote in February in fDi Intelligence Magazine, a service from the Financial Times that provides an up-to-date review of global investment activity.
"Laos's policymakers have largely pursued a reform agenda in order to keep the international donor community engaged," Freeman added.
He explained some of the largest foreign investment projects in Laos had been enacted as "soft power" projections, intended to establish an economic foothold in the country, citing China's Belt and Road Initiative.
Freeman also noted that the Laos government has sought ways of utilizing the power of the Mekong River and its tributaries as a source of foreign earnings, citing hydropower projects including the Nam Theun 2 hydropower project.
Photo: Lao-China Railway