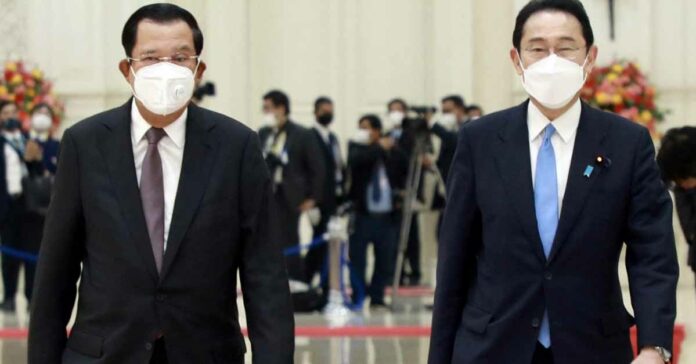 The prime ministers of Cambodia and Japan have issued a joint statement calling for peace in Ukraine and Myanmar.
Cambodian Prime Minister, Mr. Hun Sen, met with Japanese Prime Minister Fumio Kishida last week in Phnom Penh. 
The two released a joint statement calling for an end to the conflict in Ukraine. Both PMs urged Russia to pull out of Ukraine, and called the conflict "a grave breach of the United Nations Charter."
Kishida and Hun Sen recognized "that this aggression jeopardizes the foundation of international order which does not accept any unilateral change of the internationally recognized borders by force," according to the statement.
They also denounced the violence in Myanmar and stressed the importance of the Junta releasing detainees like Myanmar's one-time leader, elected civilian Aung San Suu Kyi, and of reestablishing a democratic system of governance.
Peace was paramount in the pair's message: Hun Sen, citing Cambodia's own war-torn past, said "War cannot be ended by war, and peaceful solution is the only means."
Prime Minister Hun Sen is also the Chair of ASEAN, which sent a peace envoy to Myanmar last week.
Meanwhile, in a comment made during the inauguration of a new road, Cambodian Prime Minister Hun Sen said of the conflict in Ukraine, "This is not a small issue because it creates a bad habit for the world: the stronger nation attacking the weaker one. So, if the stronger nation attacks the weaker one, will they attack us [Cambodia]? Then who will help us? This must be clear-cut. This is why we must have a clear position," he explained.
Cambodian PM Hun Sen has also said that Cambodia will not order the evacuation of the 23 Cambodian families currently in Ukraine.
He has said that fleeing is not the right thing to do during this situation, and has likewise said that he will not allow Cambodian citizens to volunteer to fight on behalf of Ukraine. Doing so, he said, would be like "pouring gasoline on a burning fire.'