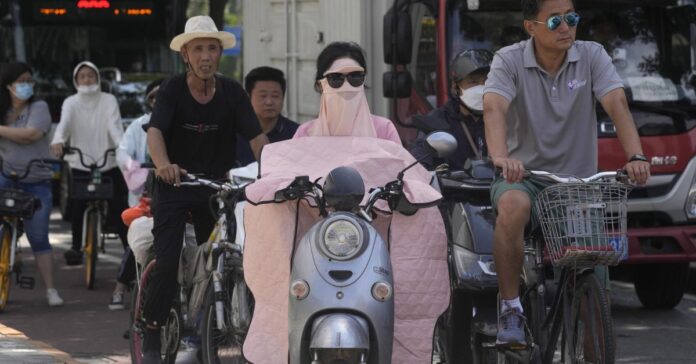 People living in Asia continue to grapple with the brutality of the April heat wave, as temperatures reach record-breaking levels with little relief in sight.
Several countries in Southeast Asia have recorded some of the highest temperatures this week, while scorching heat in the Indian subcontinent have already killed more than a dozen people.
In the northern parts of Laos, provinces like Xayaboury saw maximum temperatures reach 41 degrees Celsius, while Luang Prabang province set a new all-time record when temperatures peaked at 42.7 degrees Celsius on 18 April, according to the Department of Meteorology and Hydrology in Laos.
In Thailand, the northwest city of Tak saw temperatures rise to 45.4 degrees Celsius on 15 April, the highest the country has ever seen, according to weather historian Maximiliano Herrera, who used data from the Thai Meteorology Department for the analysis.
Thailand's Prime Minister Prayut Chan-o-cha has expressed his concern over the "dangerously high temperatures in various parts of Thailand," referring to the health alert issued by authorities that state temperatures in Bang Na District of Bangkok could reach 50.2 degrees Celsius this week, reports CNN.
Other countries in Southeast Asia have also faced tremendous heat spikes. Myanmar set a new record for April on Monday, as its central Sagaing region, reported its highest temperatures of 44 degrees Celsius.
Typically, April and May are the hottest months of the year as temperatures rise before the monsoon rain begins in the region. But Thailand, along with some parts of Laos has also been hit by thick toxic smog due to agricultural burning and forest fires in the region.
Tourist hotspots like the UNESCO World Heritage Center of Luang Prabang in Laos saw  Air Quality Index (AQI) reach hazardous levels of 500, while Chiang Mai in Thailand became the most polluted city in the world for the second time in April this week.
In other parts of Asia, temperatures also rose to the high 30s and low 40s, like Yuanyang in China recorded a high of 42.2 degrees Celsius on Tuesday, only 0.3 degrees Celcius less than the country-wide record for April, says Herrera.
Temperatures across South Asia (Pakistan, India, Nepal, and Bangladesh), have also surpassed 40 degrees Celsius, which albeit not record-breaking, is deadly nonetheless.
In the western state of Maharashtra, at least 13 people died from heatstroke after attending a state award ceremony on 16 April, and between 50-60 people were hospitalized, according to a city police official.
A study from 2022 found that dangerous heat waves will be three and 10 times more prevalent by the turn of the century and is likely to push the limits of human survivability.