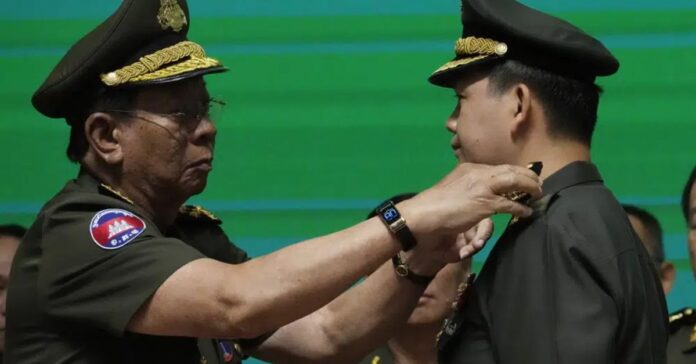 PHNOM PENH, Cambodia (AP) — Cambodian army chief Hun Manet, who is widely expected to replace his father as the country's Prime Minister later this year, was promoted Thursday to his country's highest military rank.
Prime Minister Hun Sen, 71, explicitly declared his support in December 2021 to have the United States Military Academy-trained Hun Manet succeed him through constitutional means. In mid-March, Hun Sen hinted strongly that he intends to step down when a new government is installed after July's general election.
"Now we have found the young generation that will come to replace us. We should hand over to them and just stay behind them," Hun Sen said at the time.
Hun Manet, 45, was made a four-star general — a promotion from his three-star lieutenant-general's rank — at a ceremony attended by about a thousand senior officers at the Defense Ministry in the capital Phnom Penh.
He was formally granted his promotion in March by King Norodom Sihamoni, whose position is largely symbolic.
In a statement posted on his Facebook page after the promotion ceremony, Hun Manet thanked the king, his father, Defense Minister Tea Banh, and all the army's officers for their trust and support, and for providing him a chance to serve Cambodia and its people.
Hun Manet holds several key security posts and was already elevated in 2018 from the 865-member Central Committee of his father's ruling Cambodian People's Party to its 37-member Standing Committee, the country's key decision-making body, making him a de facto member of his father's inner political circle.
In a speech at the ceremony, Tea Banh — one of Hun Sen's most important early supporters — credited Hun Manet for upgrading and reforming Cambodia's military since he became army chief in 2018.
Hun Sen has led Cambodia with an iron fist for 38 years, and during the last election in 2018 had vowed to stay in office for two more terms, until 2028. At the same time, he spoke often of having Hun Manet succeed him and appointed him to several high-profile and important positions. He said the new post-election government would likely be formed in September.
Hun Sen has maintained power as an autocrat in a nominally democratic framework. His Cambodian People's Party, with a stranglehold on power, is certain to top the next polls. It won all the National Assembly seats in the 2018 election, after a court ruling dissolved the only credible opposition grouping, the Cambodia National Rescue Party, for allegedly plotting the illegal overthrow of the government. The courts are widely seen as political tools of Hun Sen's ruling party.
___
By SOPHENG CHEANG Associated Press