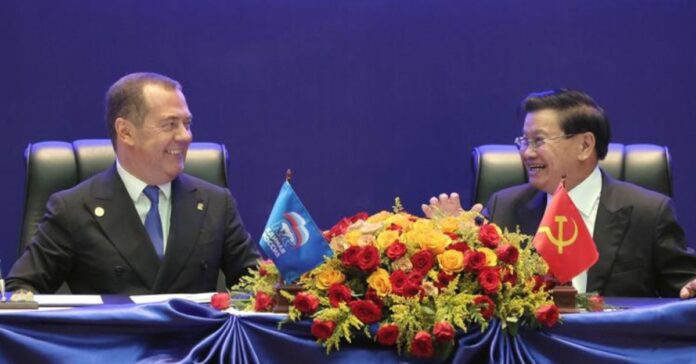 President Thongloun Sisoulith participated in talks with Dmitry Medvedev, Chairman of the United Russia Party and Deputy Chairman of the Russian Security Council, after extending an invitation to the Russian delegation on 23 May.
Both countries expressed their gratitude for the continuous bilateral support they have provided to each other since the days of the former Soviet Union.
The Lao leaders in attendance affirmed that the visit of the Russian leader has significantly contributed to enhancing the relations between the two nations.
President Thongloun also emphasized Laos' remarkable recent achievements, particularly in implementing the resolutions of the 11th National Congress of the Lao Party and the 9th Five-Year National Socio-economic Development Plan.
Medvedev, on his part, praised Laos' overall and substantial progress in socio-economic development under the leadership of the Lao People's Revolutionary Party. He expressed his wishes for the Southeast Asian country to continue achieving even greater successes in national defense and development in the new era.
The two leaders discussed measures to bring practical benefits to the people of both countries, as well as regional and international issues of mutual concern.
The Russian leader, also met with General Chansamone Chanyalath, Laos' Minister of National Defense, and Lieutenant General Vilay Lakhamfong, Minister of Public Security. During these meetings, the two parties signed a memorandum of understanding (MoU) to collaborate in the field of education.
Additionally, the Russian delegation visited the Museum of former President Kaysone Phomvihane and the a monument for fallen Soviet pilots in Vientiane, where they paid their respects by laying wreaths at the memorial.