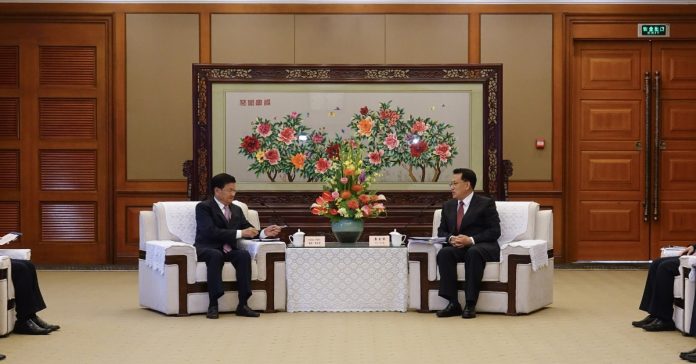 Mr. Thongloun Sisoulith, President of Laos, visited Mr. Yuan Jiajun, Communist Party Secretary of Chongqing, on Monday.
During his visit, the Lao president praised Chongqing's achievements in socio-economic development, particularly its success in eliminating poverty, transforming Chongqing into a major economic center, and building land-sea transportation links from western China to other countries, according to Paxason.
The two leaders also discussed the future of Laos-Chongqing relations and agreed to explore cooperation in a variety of areas, including development in rural areas and the transportation of goods between Laos and Chongqing through the Laos-China railway, which will open up the Laos market to export its goods to the central-western part of China.
The Lao president asked Mr. Yuan to urge Chinese investors and businesses to invest in Laos and for Chinese tourists to visit the country more frequently.
Mr. Yuan expressed his gratitude for the participation of the Lao delegations in a recent international conference held in Chongqing City. He was pleased to observe that the top leadership of both countries made significant efforts to enhance bilateral cooperation.
Additionally, the Lao president visited the Hongyan Revolutionary Memorial Hall, an important historical site as well as an important industrial production base in Chongqing.
Mr. Thongloun's official trip to China also included visits to Yunnan Province and the Guangxi Zhuang Autonomous Region.