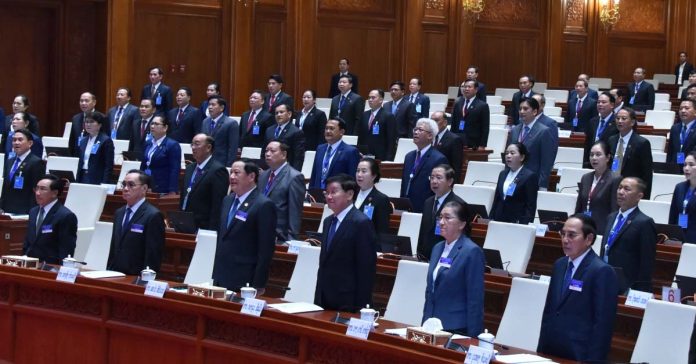 The Fifth Ordinary Session of the Lao National Assembly's (NA) Ninth Legislature, opened on Monday to address the ongoing economic and financial concerns in the country and discussed key measures put in place to tackle them.
The first day of the National Assembly was attended by Secretary General of the Lao People's Revolutionary Party and President of Laos, Thongloun Sisoulith, cabinet members, and Party, state and NA members. The assembly is scheduled to take place from 26 June to 18 July.
While addressing the assembly, Prime Minister Sonexay Siphandone pointed out that the country's GDP grew by 4.8% in the first six months of 2023, and is expected to show further growth of 4.9% in the second half of the year. At the end of 2023, Laos' GDP is projected to stand at LAK 118 trillion (USD 6.1 billion).
The PM said that there were many internal and external factors currently affecting the Lao economy like global military conflicts, economic sanctions, the fuel crisis, escalating food prices, and skyrocketing inflation.
He added, "Laos is vulnerable to external impacts, and although a trade surplus of USD 1.3 billion was recorded in 2022, illegal imports of goods at border crossing still remains a great concern."
The PM also informed that just over 30% of export receipts were recorded in the country's banking system. However, he assured the National Assembly that the government will not allow Laos to default on its debts and pledged to stabilize foreign currency exchange rates, to suppress inflation and better regulate consumer product prices.
According to Vientiane Times, the Lao government is committed to repaying LAK 8 trillion of its debts to private companies by transferring the debts to commercial banks over the rest of the fiscal year, which in turn will help private enterprises maintain financial liquidity to overcome economic hurdles. 
Furthermore, the government also pledged to make more foreign currency available to fuel importing companies, as the Bank of Lao PDR (BOL) reports that the country's foreign and local currency supply has grown by 26%. More reforms are also on the cards for state-owned companies to promote domestic production for consumption and exports.
Additionally, BOL has plans to tighten monetary policy for the remaining six months of the fiscal year while collaborating with related sectors. During this period, the central bank aims to focus on implementing action plans, managing currency and financial institutions, stimulating the economy, and enhancing international cooperation.