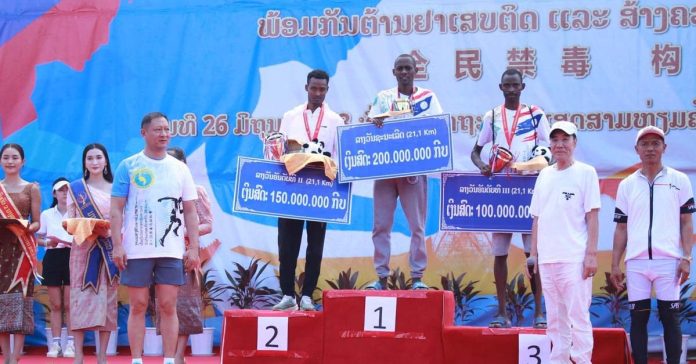 Athletes from Kenya and Ethiopia won a half-marathon organized at the Golden Triangle Special Economic Zone in Bokeo Province on Monday.
Lao National TV reports that over 1,000 athletes participated in the event from countries in Europe, Africa, and Asia, including Laos, Thailand, China, Myanmar, Ethiopia, Kenya, France, and South Africa. 
The competition included a 21.1 km run for men and women, a 10.5 km run for men and women over 16, and a 10.5 km distance for men and women under 16.
The winners of the 21.1 km half-marathon category for men and women received a trophy, a gold medal, and a prize of LAK 200 million or (over USD 10,000) each.
Niguse Mamo of Ethiopia won the women's half-marathon with a record time of 1 hour 18 minutes 02.35 seconds, followed by Dibabe Beyene Debela and Zinashwork Yenew Ambi from Ethiopia, who won a silver and a bronze medal, respectively.
Mathew Samperu of Kenya won the men's half-marathon race with an impressive time of 1 hour 2 minutes 59.30 seconds. Berihun Yerga Selashi of Ethiopia and John Muiruri of Kenya won silver and bronze medals respectively in the same category.
Lao athlete Lodkeo Inthakoumman who won the women's half-marathon last year was placed 15th, finishing 4 minutes behind this year's winner. Lamphone Xayathee from Xieng Khouang province ranked 20th in the men's half-marathon.
The competition was held to promote sports, health, and tourism in Bokeo province and was attended by Bokeo Provincial Governor, Mr. Bouakhong Nammavong, and President of the Executive Council of the Golden Triangle Special Economic, Mr. Zhao Wei.