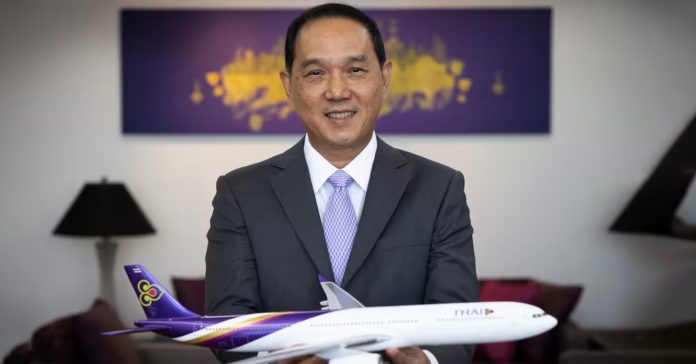 Thailand's biggest airline, Thai Airways International, has laid out plans to expand its fleet after seeking bankruptcy protection in 2020 due to inefficient management and the Covid-19 pandemic which hindered its progress.
According to a Nikkei interview with the Airline's CEO, Chai Eamsiri, who has over four decades of experience in aviation, the company urgently needs to grow. "We have to grow, otherwise, we will not be able to compete with other international airlines," he said.
The airline plans to double its fleet after its size shrunk to 65 planes under its previous restructuring plan, as it enters a new phase of expansion.
"I think we do well on continental flights, like Europe and Australia, but we have to improve Western [routes] — I mean India, Bangladesh, and Pakistan." He emphasized his focus is on breaking through to the Indian market since the country has one of the largest populations in the world and has strong cultural and economic ties with Thailand. 
According to Thailand's Ministry of Tourism and Sports, around 990,000 Indians visited the nation in 2022, second only to Malaysia. Initial figures for the first five months of this year placed India among the top visitors to Thailand, with more than 600,000 of its citizens visiting Thailand until May.
To enter the new Indian market, Chai plans to expand Thai Airways' fleet to 113 by 2027. However, connectivity to smaller Indian cities will be facilitated by "small, narrow-body" aircrafts, which can carry fewer passengers but will be more efficient for short-distance flights. 
"For example, the secondary market in India is not like Delhi or Mumbai, and we can use narrow-body [aircraft]," Chai said.
When explaining his decision to move on from cutting back on flights to expansion, Chai pointed out that the airline was now free from onerous rules governing state-owned companies that require government approval for any major decision, leading to ineffective management.
Previously, the Ministry of Finance of Thailand held a 51.03% stake in the company. The Ministry then sold 3.17% to a government-affiliated investment fund, Vayupak Fund 1 in May 2020. State-owned company rules no longer applied to Thai Airways.
The company has also cut its workforce by half, from around 21,000 to 10,000 as of June 2023 to commensurate with its sales, along with its fleet size from the pre-pandemic size of 103 planes to the current 65 planes.
The airline is starting to see signs of re-emergence, with the easing of post-pandemic travel restrictions as well. In December 2022, Thai Airways posted an operating profit of around THB 7.7 billion (USD 217.3 million), a turn-around from the THB 19.7 billion (USD 561.4 million) loss in 2021.
Chai says that the company's domestic routes have also become more efficient, with the integration of the management of Thai Smile, Thai Airways' domestic flights subsidiary, by the end of this year.
The Thai Airways CEO additionally emphasized on the need for legal reform to improve the company's competitiveness. Under the current laws, government approval is needed to purchase new aircraft, which can take up to six months. "The key is speed," Chai said.