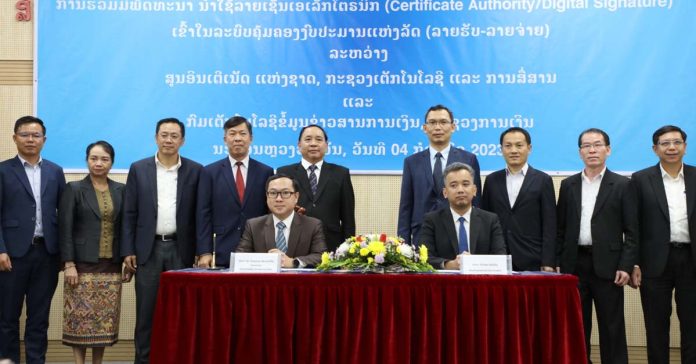 The Ministry of Technology and Communication and the Ministry of Finance in Laos signed an agreement to develop the use of electronic signatures in the state budget management system on 6 July.
Mr. Vilaythong Southavilay, Acting Director-General Institute of the Finance Information Technology Development, Ministry of Finance, highlighted the ministry's commitment to digitizing the state budget management system at the event. 
The cooperation agreement will facilitate the joint study, development, implementation, and utilization of electronic signatures responsible for issuing approvals regarding expenditure, and payment orders, as well as withdrawals within the Department of State Budget, Ministry of Finance.
Both Ministries agree that using electronic signatures will reduce the reliance on paper documents, facilitate the secure and accurate transmission of electronic documents online, and contribute to the modernizing of the financial sector.
The project will consist of various crucial components such as the National One-Door Tax Notification System (ASYCUDA, NSWA+), the summary of financial statements, accounts of private and state-owned businesses, and the tax notice system (TaxRIS) of the Department of Taxation.
The Ministry will also establish a payment center for taxes, fees, service charges, and disbursements through the banking system, along with enhancing connectivity between the Ministry of Finance and relevant sectors to effectively manage, analyze, and research income data.
This agreement is in line with the Lao government's plan to develop the digital economy, as per the National Assembly-approved 10-year national digital economy development strategy and the 5-year national digital economy development plan.
The breakthrough agreement represents a step towards achieving a more efficient and technologically advanced state budget management system.