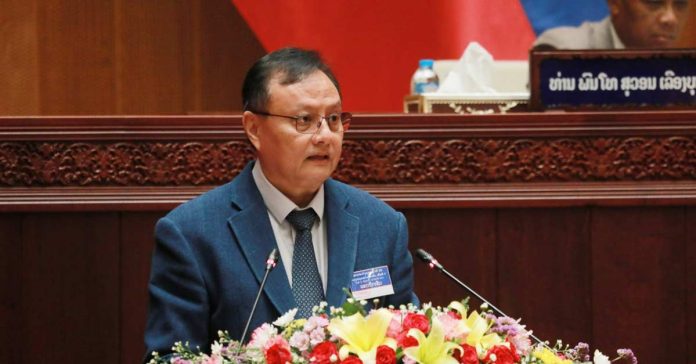 The Minister of Finance, Santiphap Phomvihane, proposed a new draft law on land tax during the ongoing 5th Ordinary Session of the 9th National Assembly on 6 July.
The draft, which includes 48 articles, four chapters, and nine sections, is intended to replace the previous land tax collection legislation, which was announced in 2000 and revised in 2007.
Santiphap said that the previous legislation has been in use for more than 16 years and that land tax revenue collection is currently low, inconsistent with the revised legislation, and challenging to implement. This has led to the need for a new law that is stricter, more specific, and addresses outstanding issues that could not be incorporated in the past.
According to Pathedlao, the new draft law is primarily about defining land tax collection in line with international standards based on the level of economic growth in Laos (GDP), the rate of inflation, and the value of the land tax paid in the past. This will ensure that collection is transparent, fair, effective, and verifiable.
Santiphap said the new land tax law will make it easier to collect taxes with clear, and focused legislation, which will solve the main outstanding issues that have been raised during the ongoing assembly session.
He added that the new land tax law will also increase tax revenue in line with socioeconomic growth and modernize land tax collection conveniently and transparently.
To facilitate land taxpayers and track those who have not yet paid land tax, the new law will develop a management IT system to allow land taxpayers to easily access information and make payments.
Furthermore, Santiphap discussed several additional benefits of the new proposed land tax law that the National Assembly is now considering during its current session.