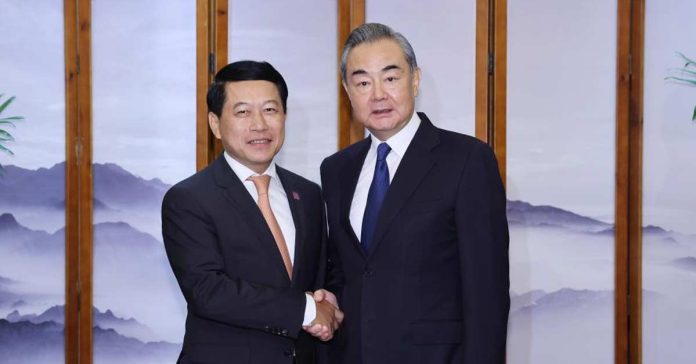 Lao Deputy Prime Minister and Minister of Foreign Affairs Saleumxay Kommasith met with Wang Yi, director of the Office of Foreign Affairs Commission of the Chinese Communist Party (CCP) Central Committee, in Beijing on Monday to promote cooperation between Laos and China.
The meeting took place following Mr. Saleumxay's interaction with Lao delegates at the First High-Level Meeting of the Forum on Global Action for Shared Development, which was attended by representatives from embassies, United Nations organizations, and international financial institutions, according to the Ministry of Foreign Affairs of Laos.
Mr. Saleumxay expressed Laos' appreciation for China's Global Development Initiative (GDI) and said that Laos is dedicated to developing a solid, long-lasting, and stable comprehensive strategic cooperation with China.
He added that China is a significant strategic partner for ASEAN and that Laos will play an active role in strengthening ASEAN-China relations.
Mr. Wang thanked the Lao Deputy PM for his support at the forum and conveyed China's willingness to work with Laos to strengthen their relationship, Xinhua reported.
Additionally, the two sides discussed the upcoming 20th anniversary of China's joining the Treaty of Amity and Cooperation in Southeast Asia (TAC), and the need to accelerate negotiations on the upgraded China-ASEAN Free Trade Area (FTA).
The two leaders believe that the upgraded FTA will inject new impetus into the building of a peaceful, safe, secure, prosperous, and amicable equation between China and ASEAN.
This meeting marked an important step forward in furthering Laos-China cooperation and promoting the implementation of the GDI and the China-ASEAN comprehensive strategic partnership.