Australia is deepening its economic engagement with Southeast Asia, writes Special Envoy for Southeast Asia, Nicholas Moore. 

As Special Envoy for Southeast Asia appointed by Australian Prime Minister Anthony
Albanese, I am leading the development of the Australian Government's Southeast Asia
Economic Strategy to 2040.
The strategy will set out a practical pathway to boost two-way trade and investment between Australia, ASEAN countries, and Timor-Leste. To help inform the Southeast Asia Economic Strategy for 2040, I have been consulting across Australia and the region on the opportunities and barriers to economic growth.
This week I am in Vientiane on my first visit to Laos, to hear local perspectives and learn how Australian capability, technology, and investment can help meet the needs of Laos' growing economy.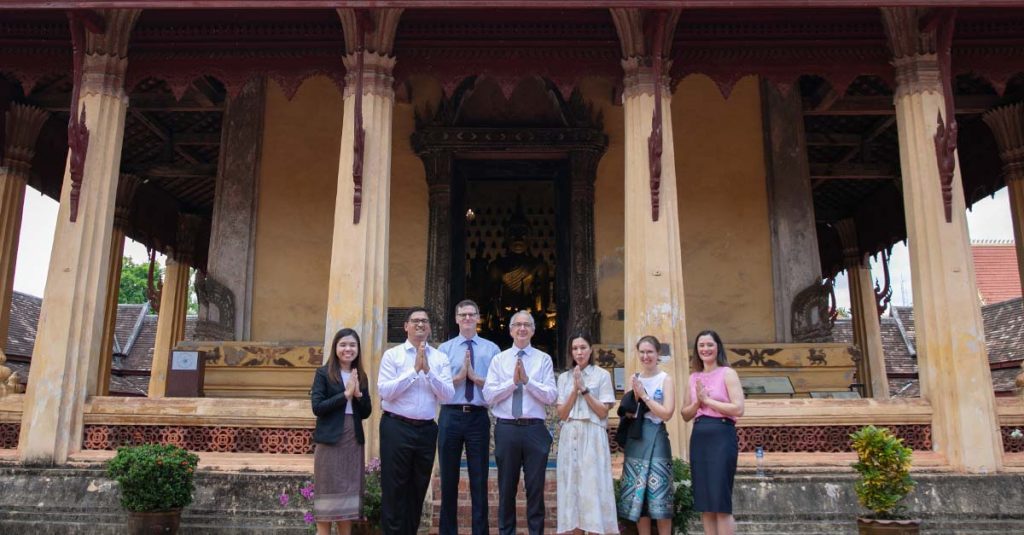 We have a strong base in the region to work from. Australia's two-way trade with ASEAN is
more than 14% of Australia's overall trade, surpassing AUD 150 billion (USD 100 billion) in
2021-22. This is greater than Australia's two-way trade with Japan or the United States.
Emerging regional trends, including growing middle classes, urbanization, and demographic
shifts will transform Southeast Asian economies over the next two decades.
Laos has one of the most youthful populations in our region with almost 55% of the population under the age of 25. Across Southeast Asia, this large, productive demographic base of 670 million people holds incredible potential to drive growth to 2040
and beyond.
Australia is a trusted and reliable partner and has much to offer Laos and our broader region in areas such as education, agriculture technology, and renewable energy. In 2021-22, our two-way trade in goods and services was AUD 617 million. While this is more than double the previous year, there is room to grow.
Additionally, Australia has also provided a stable market for Lao exports, mainly in gold,
telecommunications equipment, and electric machinery. In Laos, Australian companies have
invested in mining, forestry, banking, and tourism, and bring innovation, international best
practices, and new employment to the local economy.
We contribute to Southeast Asia's energy security, food security, and infrastructure. Our
investments and development assistance in Laos have supported economic growth through
establishing world-class mines, improving education outcomes, enhancing transport
connectivity and strengthening public financial management.
Under the Australian Government's Partnerships for Infrastructure (P4I) initiative, Australia
is providing at least AUD 10 million to improve transport connectivity, trade, and logistics,
help Laos attract quality investment, and facilitate business growth. This is vital to the secure and stable economic futures our countries seek.
The speed of Laos' evolution to become Southeast Asia's largest electricity exporter is
impressive, with its electricity generation predicted to reach 70 terawatts by 2040.
The new Laos-Australia Sustainable Energy Partnership, which was signed in May 2023, will support Laos' green economy ambitions and share Australian expertise in energy planning, emerging technologies, and the clean energy transition. We are exploring new opportunities to increase cooperation on solar, hydrogen and energy storage, wind, and hydropower
integration projects.
With more than 60% of Laos' workforce in the agriculture sector, I am confident there are
also opportunities for greater exchange with Australia. Our skills and knowledge in
agribusiness, sustainable and productive agriculture, and food systems could help strengthen Laos' agriculture.
We share more than 70 years of bilateral relations – the longest unbroken diplomatic
relationship Laos has with any country. Recent months have seen an increase in the tempo
of our relations.
Lao Deputy Prime Minister and Minister of Foreign Affairs His Excellency
Saleumxay Kommasith visited Australia in October 2022, Prime Ministers announced their
intention to elevate the bilateral relationship to a Comprehensive Partnership in November
2022, and Australian Minister for Foreign Affairs Senator the Hon Penny Wong visited Laos
in May 2023.
More than 17,000 people with Lao ancestry live in Australia – a popular destination for Lao
students. His Excellency Saleumxay was the first student from Laos to graduate from
Monash University in Melbourne. Our Australia Awards scholarship program has also
supported tertiary education in Australia for more than 1300 Lao citizens, who have
contributed further to Laos' development.
Australia and Laos are parties to the Agreement Establishing the ASEAN-Australia-New
Zealand Free Trade Area and the Regional Comprehensive Economic Partnership
Agreement. These agreements have been essential to trade.
While our trade relationship continues to grow, our shared economic future will depend on how we address trade and investment barriers, as well as how we approach partnerships and opportunities.
Australia is invested in Laos and Southeast Asia. We will be ambitious in Southeast Asia
Economic Strategy to 2040, to deepen our economic engagement with the region for our
shared security and prosperity.
The views and opinions expressed in this article are those of the author and do not necessarily reflect the position of the Laotian Times.