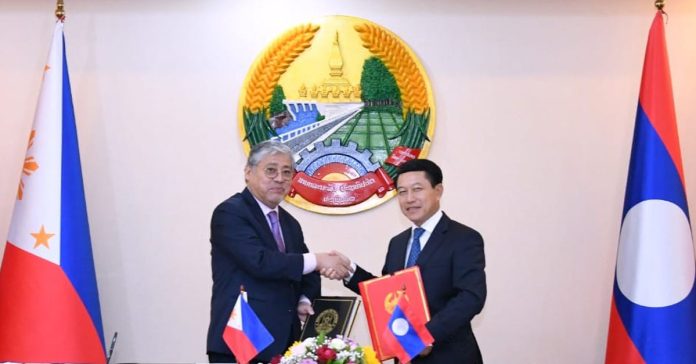 The Secretary for Foreign Affairs of the Republic of the Philippines, Enrique A. Manalo, accompanied by his spouse and delegation, arrived in Vientiane on 3 August, for an official visit to Laos.
During his visit, Secretary Manalo will co-chair the 2nd meeting of the Laos-Philippines Joint Commission for Bilateral Cooperation (JCBC) together with the deputy prime minister and minister of foreign affairs of Laos, Saleumxay Kommasith. The inaugural JCBC meeting was held on 13 July, 2017 in Manila, Philippines.
Secretary Manalo will also call on Lao Prime Minister, Sonexay Siphandone and deliver a speech at the Institute of Foreign Affairs.
The two-day visit will be Secretary Manalo's first visit to the country in his capacity as secretary for foreign affairs after being appointed in July 2022.
With forty years of service, the Philippines top diplomat has served as Philippine permanent representative to the United Nations (UN) in New York, Philippine permanent representative to the UN in Geneva, as well as Philippine ambassador to the United Kingdom and Kingdom of Belgium. He has likewise served as the Philippines senior official in the ASEAN Senior Officials Meeting in conjunction with his position as undersecretary for policy.
Laos and the Philippines established diplomatic relations on 14 January 1955. The Philippines was the second country in Asia after Thailand and the fourth country in the world after Thailand, Australian, and France, which recognized Laos.
The two countries will celebrate the 70th anniversary of the establishment of bilateral relations in 2025.