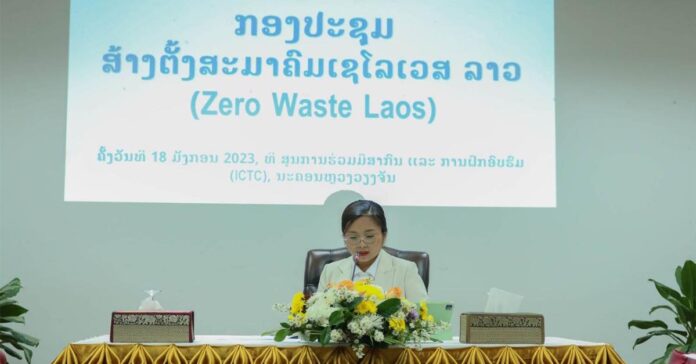 Zero Waste Laos has recently been recognized by the Lao government as a non-profit organization, making it the first youth-led environmental group in the country to receive this honor.
Ms. Souksaveuy Keotiamchanh, the Founder of Zero Waste Laos (ZWL), announced last week that ZWL has received documentation from the Ministry of Natural Resources and Environment approving its registration as a local non-profit organization.
This milestone also establishes Zero Waste Laos as the first youth-led environmental organization in Laos.
During her conversation with the Laotian Times, Ms. Souksaveuy expressed her immense pride in this accomplishment and credited the unwavering support from the Lao government, particularly the Ministry of Natural Resources and Environment, for understanding the significance of the Youth Movement on Environmental Protection initiatives.
"I am extremely proud of this achievement," says Ms. Souksaveuy.
"With our organization getting approval from the central government, many other volunteering groups as well as our team members will be inspired to take more action and keep on doing our good work," she added.
Ms. Souksaveuy then shared the challenges faced by ZWL before getting this recognition. Time restrictions posed a significant hurdle as most of the volunteer group members were young individuals available only on weekends. Additionally, long-term funding has also been a struggle for ZWL.
"We hope that after official approval, we can get long-term funding from partners."
Apart from the challenges, Ms. Souksaveuy shed light on ZWL's ongoing initiatives. They are currently implementing the Youth Climate Action program across 11 provinces, with a target to plant 100,000 fruit trees in schools by 2025.
"We've already made it up to 30,000 trees by 2023. Furthermore, we plan to expand the membership of Zero Waste Laos in every province of Laos," she informs.
Ms. Souksaveuy further mentions that ZWL offers both on-site and off-site campaigns and that anybody, especially those who share a passion for environmental sustainability, is free to participate in either.
On-site involvement includes volunteering for ZWL and engaging in sustainable activities such as waste reduction efforts and planting trees. The off-site campaign involves sharing ZWL's official Facebook posts with friends and family to spread awareness, according to the founder.
The journey to ZWL's formal registration began in early 2023 when it was first recognized as an official youth-led environmental non-profit organization during a meeting in Vientiane Capital. 
The meeting was helmed by Ms. Souksaveuy Keotiamchanh, and it included delegates from the Ministry of Natural Resources and Environment, as it also elected ZWL's board of directors based on their level of involvement within the organization and their ambitions for its growth.
In addition to this recent achievement, Ms. Souksaveuy Keotiamchanh was honored with the Women of the Future Awards in South East Asia in Singapore in November 2022. She is the only woman from Laos to ever win this prestigious award in the ESG (Environment, Social, and Governance) category.