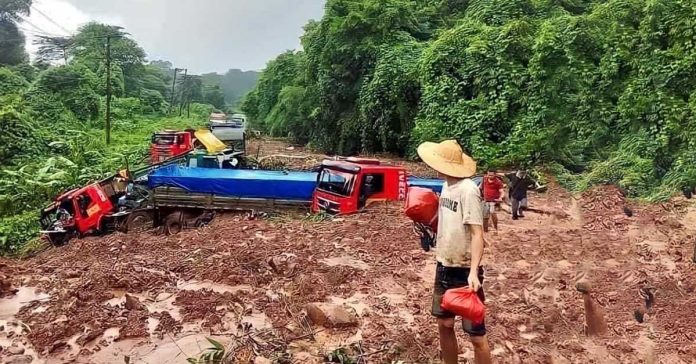 Lao authorities rescued 45 Vietnamese citizens who were trapped on a stretch of road following flooding and landslides in Bolikhamxay Province on Saturday.
In Bolikhamxay, the districts of Khamkeut and Khounkham reported severe landslides, with reports of several vehicles submerged in floodwater and 45 Vietnamese citizens stranded on a road connecting the central Lao province with Ha Tinh province in central Vietnam.
The Governor of Khamkeut District, Mr. Keovilay Xayabout, said during an interview on Sunday that 110 vehicles were stuck in traffic, with five falling off the hills due to landslides.
Duong Cong Long, 35, of Ha Thinh Province, Vietnam, went missing after the incident and Lao authorities continue to look out for him.
The rest of the Vietnamese nationals were rescued, and 35 of them were evacuated to Khamkeut District for safety, while the remaining ten were moved to Khounkham District.
Before the incident, the province of Bolikhamxay announced the suspension of National Road No.8 on Friday, which connects the Lao and Vietnamese border, due to the landslides.
Provincial authorities, military personnel, and the police force of Khammouane and Bolikhamxay searched and assisted the people who were stranded and retrieved stuck and damaged vehicles.
Hundreds of people have been displaced across the country, and at least two fatalities have been recorded in Bolikhamxay due to widespread flooding and landslides amid the ongoing monsoon.