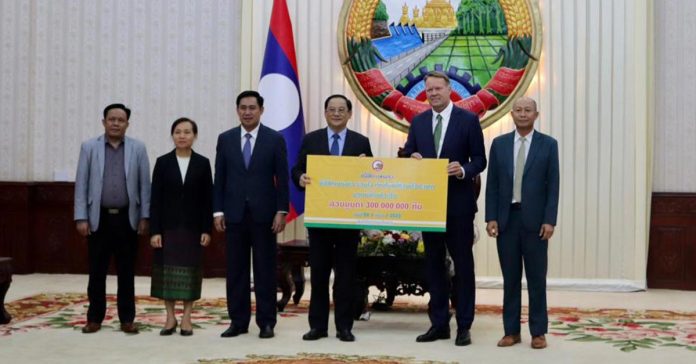 The Lao Brewery Company Ltd. has donated its Tigerhead-brand drinking water worth more than LAK 300 million as part of its relief assistance for local people affected by severe floods in several provinces of the country.
During a ceremony held at the Prime Minister's Office in Vientiane on 8 August, the Managing Director of Lao Brewery Company, Mr. Henrik J. Andersen, represented the firm in handing over the relief supplies to the Lao Prime Minister, Dr. Sonexay Siphandone, who accepted the supplies on behalf of the government and the National Disaster Management Committee.
The donation reflects the Lao Brewery Company's commitment to assisting and meeting flood victims' humanitarian needs in different provinces. Khammouane and Savannakhet provinces are among the regions hit hard by this year's flooding.
During the ceremony, the Lao Premier, Dr. Sonexay, expressed his thanks and appreciation for the role of the Lao Brewery Company in providing humanitarian assistance and support for flood victims in Laos. The company's donation was a timely response to the essential needs of locals in areas affected by the flood.
Despite economic challenges, the Lao Brewery Company has made dedicated contributions to speedily restore normalcy in the lives of people affected by floods. The humanitarian assistance also reflects the company's concern for flood-affected families and its support for their efforts to overcome challenges at a time of difficulty.
The Lao Prime Minister pledged to hand over the donation to concerned sectors in a transparent and accountable manner so that the supplies could be delivered to victims in flood-affected areas. The Lao Brewery Company is a leading organization in Laos that always attaches great importance to making contributions to society in various forms.
The Lao Brewery Company hopes that the flood-affected people will overcome all the challenges they are facing and will see normalcy restored in their lives soon.