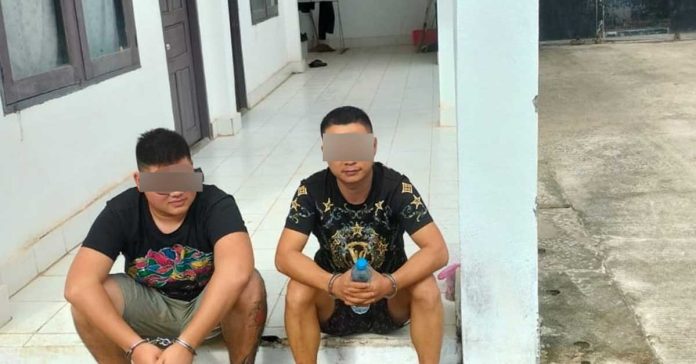 Lao police have arrested two Chinese nationals for luring underage Lao girls into live streaming dance performances over the internet.

The Xayaboury Provincial Department of Anti-Human Trafficking arrested two Chinese nationals at a rental property in July after they hired eight Laotian children to live-stream dance performances on social media platforms including Facebook and TikTok.
The two Chinese men, identified as Duan Zhi Wen, 33, and Liu Xi Gua, 18, were arrested at the residence and found to be in possession of video equipment.
The suspects informed police that they advertised career opportunities on social media and employed young, often underage girls to dance on TikTok and other platforms with an offer to provide accommodation and a monthly salary of LAK 1,000,000 (USD 51) for each person. 
According to the two suspects, the victims earned between LAK 1,000,000 (USD 51) and LAK 1,550,000 (USD 76) based on the number of individuals who viewed their performance on the platform every day.
The two men generated an income of around LAK 100,000,000 (USD 5,118) to LAK 150,000,000 (USD 7,678) per month from grooming the victims and translating their live dance performances into the Chinese language. 
According to the Lao Law on Anti-Trafficking, offenders that engage in trafficking in persons are subject to five to 15 years in prison, and may be subject to fines ranging from LAK 10,000,000 to LAK 100,000,000.
Pornography and live-streaming rings led by Chinese nationals have increased in prevalence over the years, with 16 individuals arrested in a bust in Vientiane Capital in 2021, and a similar raid in 2022 resulting in the detainment of ten individuals.
One Chinese national, Mr. Run An Xiao, from Biyun District, Guangzhou, gained notoriety after filming sexual acts with a minor in a clip that was widely distributed online in Laos, leading to an unsuccessful manhunt.
The Lao public was particularly irate after the pornographic film featured an underage Lao girl wearing a Lao Youth Union uniform.