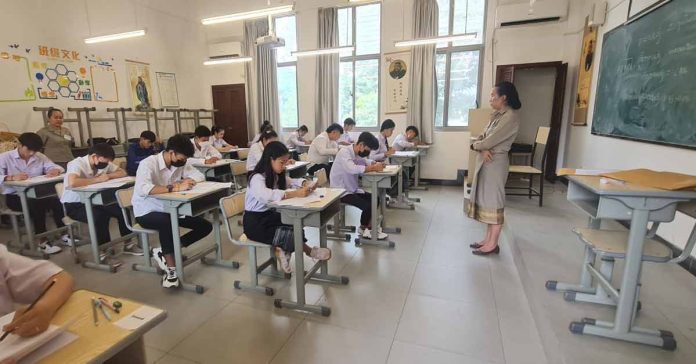 The number of candidates applying for the Bachelor's program in Chinese Language Teaching at the Confucius Institute has nearly tripled in the past two years, from 193 in 2021 to 562 in 2023, even though the overall enrolment numbers at the National University of Laos is now at a four-year low.
The Confucius Institute at the National University of Laos held its entrance exam for the 2023-2024 academic year on 13 August. A total of 562 candidates took the exam, which was divided into two parts.
The first part of the examination was divided into two sessions. In the first session, candidates were tested on the subjects of Mathematics, Geography, History, and Lao language and Literature. In the second session, candidates were tested in Chinese and English.
The second part of the examination included an interview in Chinese, conducted by Lao and Chinese teachers. The interview was designed to ensure that only the best students would be admitted to the program that provided training to become Chinese teachers.
Mr. Khamhoung Chanthavong, the director of the Confucius Institute, said that the number of candidates for the entrance exam has been increasing steadily since the program was launched in 2021 with 193 candidates appearing for entrance tests, followed by 297 applicants in 2022, and 562 in 2023.
"China's growing investment in Laos requires a bilingual workforce who understand Lao-Chinese culture," adds Mr. Khamhoung. "The Chinese Language Teaching course is designed to train these young professionals to support the development of the Laos-China economy."
Additionally, the Confucius Institute is reportedly planning to offer a Master's Degree in Chinese Language Teaching to enable students to complete their postgraduate studies in Laos and become highly qualified Chinese language teachers instead of heading abroad for a similar course.
During the entrance exam for the National University of Laos on 12 August, the Department of Chinese Language also received over 2,000 student enrollments, the most for any subject this year.
The increasing popularity of Chinese language studies among Lao students is a result of the growing number of Chinese tourists and investors in the country, which also creates more job opportunities in related industries.
While the number of students taking Chinese language courses in Laos is increasing, the number of university enrollments has seen quite the decline, with less than 10,000 students managing to register and/or secure a place at a university in 2023.