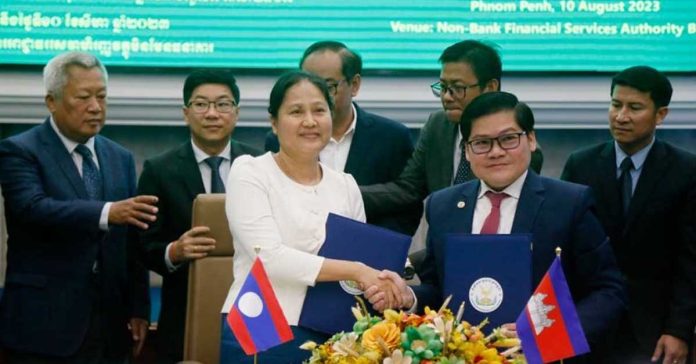 The Securities and Exchange Regulator of Cambodia (SERC) and the Lao Securities Commission Office (LSCO) signed a Memorandum of Understanding (MoU) last week to enhance cooperation in developing their respective capital markets.
According to Phnom Penh Post, the MoU signifies a significant step towards the growth of the securities market in Laos and Cambodia, which is still nascent compared to other countries in the region. Ms. Fongchinada Sengsourivong, Secretary-General of the LSCO, highlighted their role in developing the securities market in Laos by issuing policies, laws, and regulations that align with best international practices.
The collaboration with SERC will provide mutual progress opportunities through information sharing and technical assistance.
SERC's Director-General, Mr. Sou Socheat, expressed that the partnership would strengthen cooperation in capacity building and information exchange between the two countries.
He emphasized the long-term benefits of the collaboration, fostering trust and solidarity between the regulators as SERC has been actively involved with regional frameworks such as the Mekong-capital market and the ASEAN-capital market forum.
Following the MoU signing, the LSCO and SERC held their first bilateral meeting and signed the first Minute of Meeting (MoM). In the meeting, the two parties agreed on a cooperation plan for 2023. This plan includes organizing a seminar to share experiences in regulating and solving problems in securities activities, encouraging investments in the capital market, and promoting cooperation and integration between both countries.
To implement the bilateral cooperation plan for 2023, a seminar was also organized to share the lessons learned from the introduction of the Green Bond in the Cambodian securities market.
This seminar covered various aspects such as the preparation process, policies, regulations, challenges faced, and future implementation plans.
Additionally, the delegation from the LSCO also had the opportunity to visit the Cambodian Stock Exchange, SBI Royal Securities Company, and a successful listed company called Golden Tree Co., Ltd, to observe and understand the successful case of a corporate bond issuance at a stock market.
Mr. Sou Socheat informed that Cambodia's securities market has experienced significant growth over the past decade, with 20 listed companies on the Cambodia Securities Exchange (CSX) and 11 of them issuing shares. Among these, Golden Tree Co Ltd made history by issuing the first Green Bond in line with the ASEAN Green Bond Standard.
Moreover, three companies are currently in the process of issuing sustainable and green bonds, showcasing the market's commitment to environmentally-friendly investments. Several more companies are expected to list on CSX by year-end, with over 100 companies already approved for market operations.