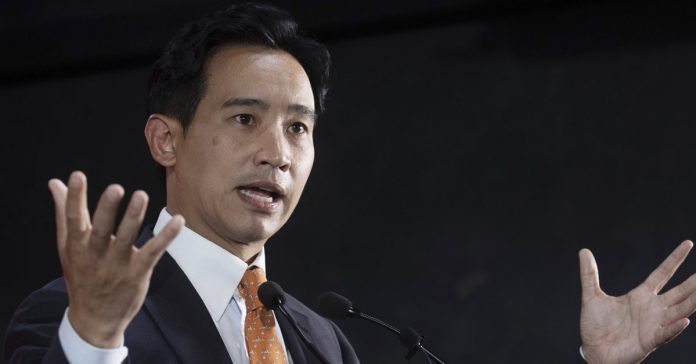 BANGKOK (AP) — Thailand's Constitutional Court cleared the way Wednesday for Parliament to vote for a new prime minister more than three months after national elections by declining to rule on a complaint over the rejection of the winning party's leader.
The court had been asked to decide whether Parliament had violated the constitution by refusing to allow the leader of the progressive Move Forward Party to be nominated for a second time as a prime ministerial candidate.
Party leader Pita Limjaroenrat had assembled an eight-party coalition with a majority in Parliament's lower house. But under the military-implemented constitution, a new prime minister must receive a majority of votes from both the elected House and the conservative-appointed Senate, which was chosen by an earlier military government.
Pita lost a first vote in Parliament for prime minister last month, with many senators voting against him because of his party's call for reform of a law that makes it illegal to defame Thailand's royal family. Critics say the law, which carries a penalty of up to 15 years in prison, has been abused as a political weapon. Members of the Senate, like the army, see themselves as guardians of traditional conservative royalist values.
The combined Parliament then refused to allow Pita to be renominated for a second vote.
Several lawmakers from Pita's party and private citizens submitted a complaint to the state ombudsman charging that the action violated the constitution. The ombudsman relayed the complaint to the Constitutional Court, which dismissed the case on Wednesday on the grounds that the complainants had not been directly affected by Parliament's decision and therefore were not entitled to submit the case before the court.
While the court's decision suggested that Pita himself could file a petition seeking a ruling on the matter, Move Forward spokesperson Rangsiman Rome said Pita would not do so. He said Move Forward continues to strongly believe that Parliament can renominate a prime ministerial candidate, but that the issue should be resolved through parliamentary procedures, not the court.
After its two failed attempts, Move Forward stepped aside to allow its biggest partner in the eight-party coalition, the Pheu Thai party, to attempt to form a new government.
Pheu Thai, which finished second in the May polls, then excluded Move Forward from the coalition, saying its call to reform the royal defamation law made it impossible to gather enough support from other parties and the Senate to approve a new prime minister.
Pheu Thai has since cobbled together a coalition of nine parties with 238 seats in the 500-member lower house, still short of the majority it needs. It plans to nominate real estate tycoon Srettha Thavisin as prime minister.
Move Forward said Tuesday that its elected House members will not vote for a candidate from the Pheu Thai-led coalition. It said the coalition, which includes parties from the outgoing military-backed administration, had violated popular demand for political reform "that was clearly expressed through the election results."
The results of May's general election were a strong repudiation of the country's conservative elites and reflected the disenchantment in particular of young voters who want to limit the political influence of the military, which has staged more than a dozen coups since Thailand became a constitutional monarchy in 1932.
Move Forward's stunning victory came after nearly a decade of military-controlled rule led by Prayuth Chan-ocha, who as army chief ousted a Pheu Thai-led government in a 2014 coup and returned as prime minister after the 2019 elections.
Many believe that the current Pheu Thai-led coalition needs to include at least one of the two military-backed parties that were soundly rejected in the polls to achieve a House majority. Pheu Thai has not ruled out that possibility.
Pheu Thai is the latest in a string of parties affiliated with ex-Prime Minister Thaksin Shinawatra, a billionaire populist who was ousted in a 2006 military coup. Thaksin has said he plans to return to Thailand soon following years of self-imposed exile to escape a prison term in several criminal cases which he has decried as politically motivated.
Following the court's decision, House Speaker Wan Muhamad Noor Matha told reporters on Wednesday that he plans to set the next voting for prime minister on Tuesday and will meet with parliamentary leaders on Thursday to discuss the matter.
___
BY JINTAMAS SAKSORNCHAI Associated Press