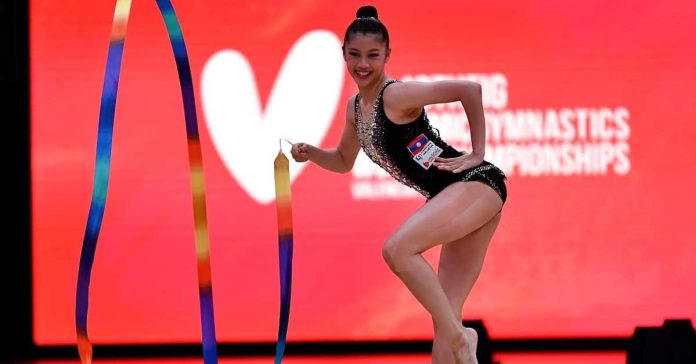 A 19-year-old gymnast represented Laos for the first time at the 40th Fig Rhythmic Gymnastics World Championships in Valencia, Spain taking place from 23 to 28 August.
Praewa Misato Philapandeth participated alongside 82 international athletes and finished in 77th place.
Vice President of the Lao Gymnastics Federation, Phokeo Philaphandeth, said Praewa was the first Lao athlete to compete at a qualifier of the 14th Senior Gymnastics Asian Championships in Manila, Philipines, and was placed 21st before the competition in Spain.
"The Asian Championship 2023 was one of my first experiences participating in a regional competition. The experience was challenging, but I learned a lot from it," said Praewa. 
In Spain, the young gymnast from Laos earned a total score of 71,000 in the All-Around Qualifications, while Bulgaria's Stiliana Nikolova took first place with a score of 104,300.
The Lao gymnast will not be able to move forward to compete in the upcoming 2024 Olympics in France, as only the top 14 individual participants and the best five groups from the Gymnastics World Championships will qualify for the competition.
"I will never forget my experience in Spain, competing with top gymnasts in the world. It has only made me want to better my skills and never give up," she said.
Praewa, who is of Lao, Thai, and Japanese heritage, represented Laos as a rhythmic gymnast at the 31st Southeast Asian Games in Hanoi, Vietnam in 2022.