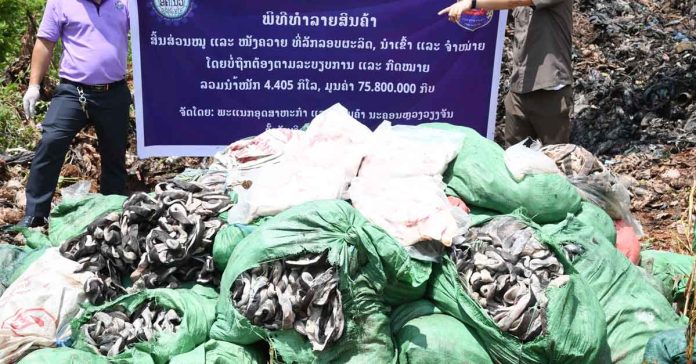 Vientiane officials destroyed 4,405 kg of illegally imported buffalo skin and pork products worth nearly LAK 76 million at a disposal site on 11 September.

The products were destroyed at an event organized by the Department of Industry and Commerce of Vientiane Capital, which was attended by Mr. Nantha Sanuvong, Deputy Director of the Department of Industry and Commerce of Vientiane Capital, representatives from the Economic Police Department, Agriculture and Forestry Department, village authorities, and related parties.
Mr. Nantha said that the products, which included 405 kg of pork worth LAK 15.8 million and 4,000 kg of buffalo skin worth LAK 60 million, were smuggled for sale from neighboring countries without the required documentation.
"The products were illegally imported from neighboring countries without the necessary paperwork, including tax declarations and animal health certificates from the agricultural sector," said Mr. Nantha.
According to Mr. Nantha, the authorities decided to destroy the products after inspecting them and finding that they posed a risk of contamination that would affect the health of consumers.
The authorities said that the destruction of the products was intended to discourage illegal imports, ensure public safety, protect customers from harmful products, and promote domestic production of consumer goods.
Recently, in Attapeu province, authorities also destroyed 207 kilograms of fish that had been confiscated from local fishermen during the spawning season, indicating that the government is serious about protecting the fish population during this critical time.
However, some social media users criticized this effort, arguing that it was a waste of food that could have been donated to those in need or used to feed animals.