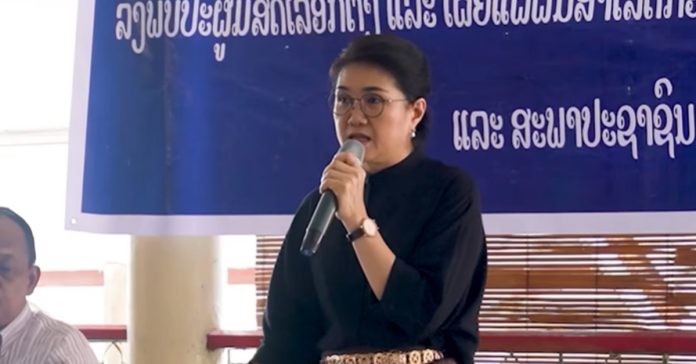 A National Assembly member from Vientiane Capital, Mrs. Valy Vetsaphong, called on tourism police to be more prompt in assisting tourists visiting Laos during her trip to Nongpanai village in Vientiane Capital last month.

Mrs. Valy called on the tourism police to be more helpful to tourists, as Laos gears up to host the ASEAN Chairmanship in 2024 and has also planned the campaign Visit Laos Year 2024 to attract more visitors.
Mrs. Valy said that the tourism police should lend a helping hand to tourists, and not make things difficult for them. If a tourist breaks a rule, the tourism police should give them a warning or provide advice instead of fining them.
"Instead of finding faults, the tourism police should be available to assist tourists at all times," said Mrs. Valy. "If a tourist violates a regulation, the tourism police should give a warning or inform them of the rules instead of charging a fine."
Mrs. Valy also urged the government to focus more on tackling the issue of unfair police charges or fines levied on unsuspecting and unaware tourists who should not be taken advantage of and should be treated fairly.
According to her, this move is to ensure that tourists have a positive experience in Laos, which would also boost the country's economy by generating income for residents and attracting spending in foreign currency.
Additionally, Mrs. Valy urged residents not to overcharge foreign visitors for food or services, as this could be a short-term gain that could discourage tourists from visiting the country in the long run.
With the increasing number of tourists, Lao Police has also drawn criticism for alleged unethical conduct including fining tourists without much reason and refusing to issue paperwork, as highlighted by an American couple on a YouTube video. Similar clips have been shot and shared by Thai tourists as well, adversely affecting the credibility of the country's tourism industry.
As the ASEAN Chair in 2024, Laos has designated next year as the "Year of Tourism", with the expectation of welcoming over 2.7 million tourists to boost its post-pandemic economy.
In the meantime, Prime Minister Sonexay Siphandone has also ordered the Ministry of Foreign Affairs to explore the possibility of issuing multiple-entry tourist visas to boost tourism and increase the influx of foreign currencies into the country.