Tag Archives:
drug prevention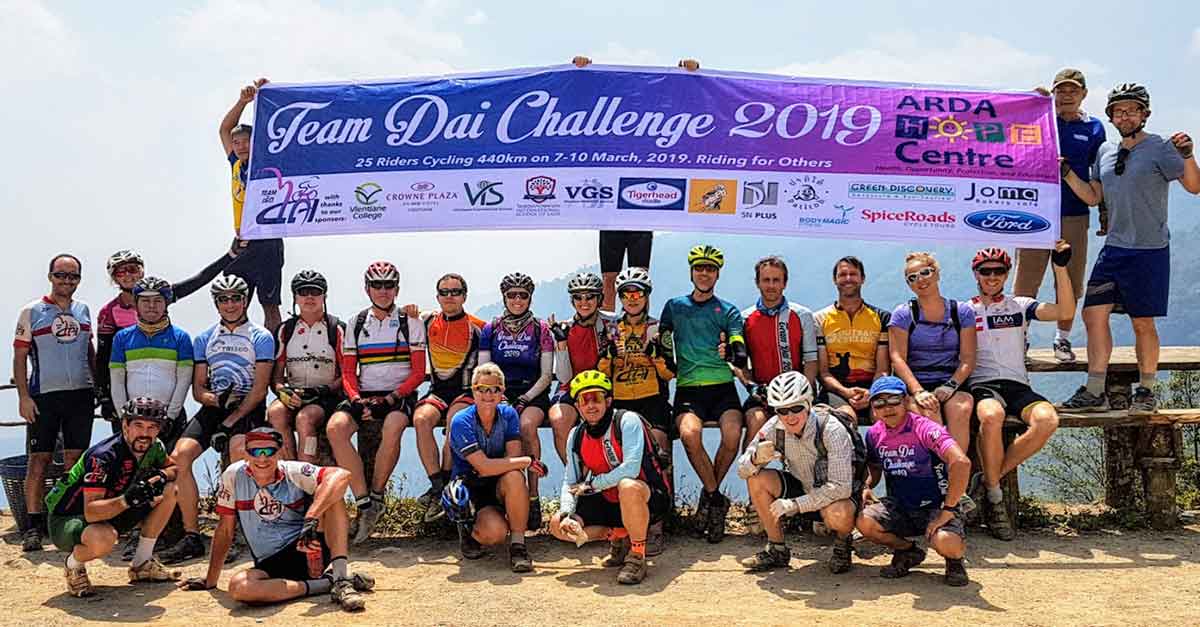 Laos-based international cyclist charity Team Dai including keen cyclist Ms Thu Ng from Vietnam tackle multiple challenges, raise confidence levels and much-needed funds, seeking to surpass the USD15,000 donation mark for disadvantaged children's Hope Centre. 
Thinking of cycling, in some parts of the world, and lycra-clad road warriors and their aspirants will come to mind.
In others, perhaps a leisurely cruise down a local bike path or in a park, perhaps by a lake or riverside.
Elsewhere, this is not quite the case. In the case of developing countries like Laos, cycling is often seen as hot, old fashioned, disadvantageous and even highly dangerous.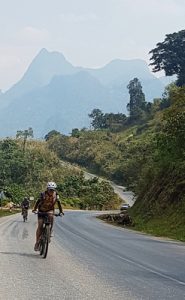 Road safety is also a malleable concept. Drink driving too often prevails, peaking during festive seasons.
You could say being a cyclist in Laos is generally no "ride in the park".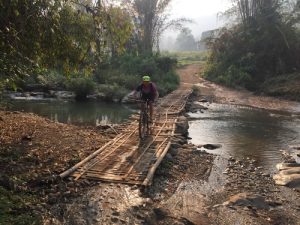 In fact, it can be an activity that best suits the determined.
The fairly flat Vientiane plain notwithstanding, Laos is certainly a majority mountainous country.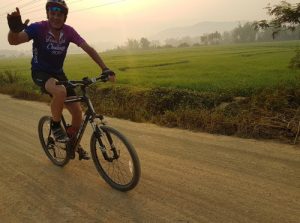 The quality of roads can leave a great deal wanting. Its a fact that surfacing on many a Lao thoroughfare is often in a more rustic condition than you see at the neighbors. Add a very warm, tropical climate and variable air quality as issues that impact.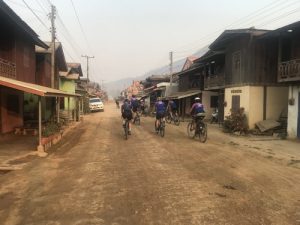 It is also a developing nation where most folks aspire to motor vehicle ownership, cycling does not convey the status it does in more developed nations.
Cycling them puts you in close contact with all the vehicles, large and small, controlled by drivers of all levels of skill, experience, and temperament.
So why would a woman cycle?
It's a question keen rider Ms Thu Ng knows better than most.
Growing up in neighboring Vietnam before making a home with her husband from Laos, she has been living in the capital Vientiane for some years.
She comes up against reflexively scornful attitudes toward the humble bicycle and cyclists both on the streets and at home.
It's positive health and social impacts are less understood.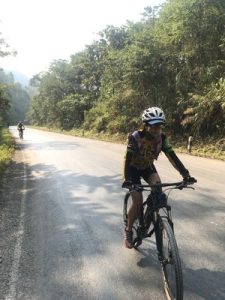 Cycling can be seen as a dangerous activity and certainly not one for a woman, particularly wife or mother, to be engaged in.
Ms Thu Ng tackled her fourth Team Dai Challenge for charity raising some US$14,630 to date for the HOPE Center's work.
She shared her thoughts on the ride from her perspective as a keen cyclist and woman.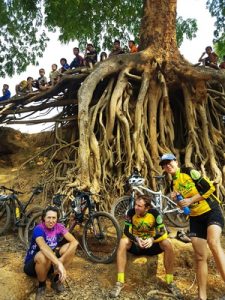 "This year's Team Dai Challenge was my fourth and for me, it was another great year of riding with like-minded and supportive Team Dai members." 
"In the Asian culture in which I grew up, I normally get told that women should stay home and not risk their lives.
"This mindset makes it hard for us women to engage in what is seen as extreme sports or exercise."
"But I am a real optimist and believe that the best part of life is having the freedom to do whatever you are passionate about.
"This is happiness and this is all about life."
Similarly, she was drawn to the engaging aspect of making a contribution to the society of the country she calls home.
"It has been said that giving is a simple solution towards some of the world's most complicated problems. 
"So every year, we volunteer our time and efforts to carry out Team Dai's mission of raising funds to help our community.
"For me personally, the ability to give support and spread love is the very best part of every Team Dai challenge."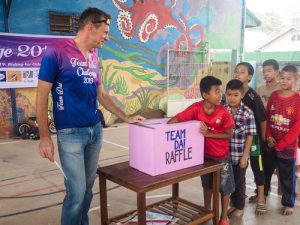 The recipient of this affection in 2019 is the HOPE Centre, a community outreach program launched by ARDA Language Centre Vientiane in 2006.
HOPE Centre helps over 200 children and youth who are at risk of abuse, exploitation, and human trafficking.
The center aims to serve the most vulnerable children and youth in the community to see them grow and develop in a healthy way and give them new hope for the future.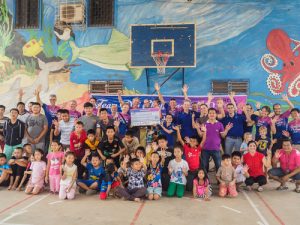 It does so by providing a safe environment where children begging on the streets, those living in slum communities and working could stop in during the day to bathe, receive medical care, a nutritious meal, general education and be involved in other activities including arts & crafts, music, sports and participate in special events.
Staff work alongside families living in poor communities to alleviate child labor and exploitation by helping them improve their livelihoods, parenting skills, and living conditions so that their children will have a suitable place to live and attend school.
Trauma counseling, educational therapy, and social skills development to child victims of abuse and exploitation help them address past experiences and move forward to lead productive lives.
Scholarships are also provided to help deter children from begging or being forced into other forms of child labor while providing enhanced educational opportunities.
Meanwhile, sporting activities including soccer and volleyball are used to divert children and youth from being drawn into a downward spiral including drug abuse.
Located at ARDA Language Centre in Vientiane, HOPE Centre welcomes every child, particularly the poor and vulnerable, a worthy cause Team Dai are proud to support.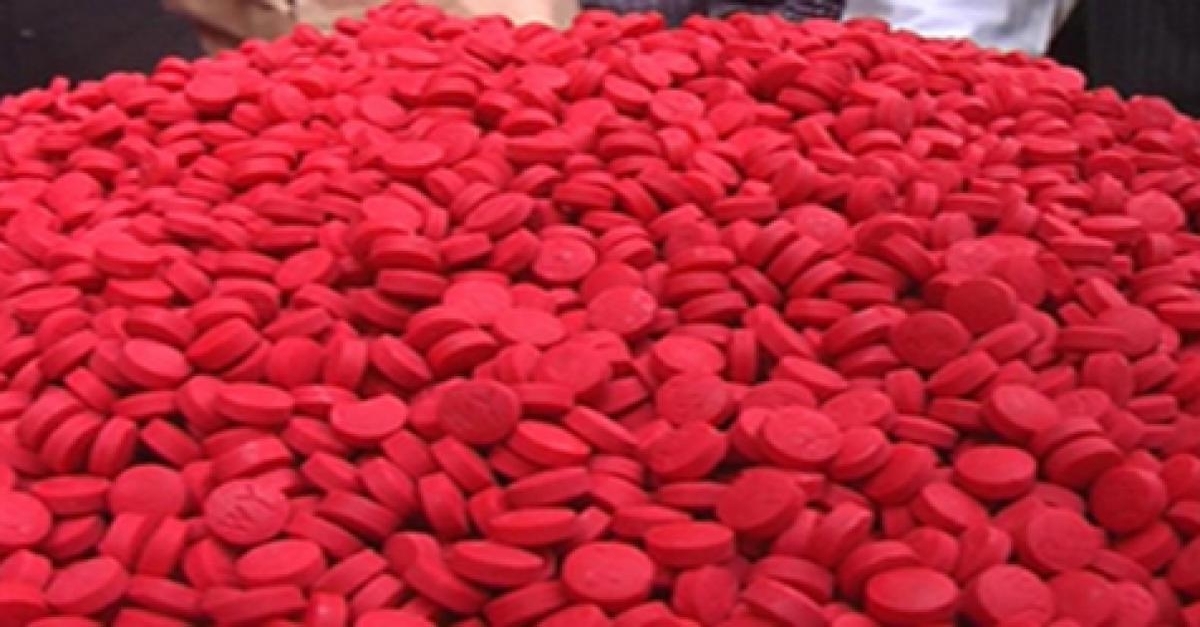 Prime Minister Thongloun Sisoulith has implored for Lao citizens to unite in an effort to join the global fight against the illegal drug trade.
Monday, June 26, 2017 marked the 30th anniversary of the International Day against Drug Abuse and Illicit Trafficking.
In an effort to crack down on the illicit drug trade amid Lao communities, the prime minister has addressed the global problem, stressing the dangers it evokes amongst humanity by arousing opportunities for crimes and corruption.
Deeming the drug trade a hindrance to socio-economic development, PM Thongloun has stressed that the illegal activity must be suppressed and has outlined seven measures to tackle the issue.
The PM has explicitly informed all party committees and authorities at all levels and sectors to consider drug prevention, control and solution efforts as their obligation and duty. During an address, the prime minister stated, "The task must be taken as a focal task associated with grass-root political building affairs."
Urging for a vast improvement in the organizational structure regarding drug inspections, relevant authorities have been ordered to take definitive action in preventing and suppressing traffickers, as well as identifying targeted traffickers regardless of their nationalities.
Prime Minister Thongloun has requested increased cooperation with international communities, particularly neighboring countries, with the aim to exchange information that will help prevent and eradicate production, trade and transport of drugs. 
Authorities have been directed to implement awareness-raising campaigns in the communities, targeting young adults to educate them on the risks and consequences of drug abuse. PM Thongloun has advised relevant sectors to continue offering those who previously cultivated opium and marijuana, other alternative incoming-generating endeavors in an effort to deter them from returning to planting illegal crops as a source of income.
The Prime Minister realizes that action must be taken to treat and rehabilitate drug abusers, while offering real world skills that will help their return to society. To achieve this, the prime minister emphasized that existing drug rehabilitation centers require a dire upgrade in professional competence of staff and medical doctors, along with facilities, equipment and funding.
In past years, the Lao People's Revolutionary Party and government have approached the prevention of addictive drug use as a critical issue. Officials have carried out multiple campaigns in an effort to inform young adults in Lao society of the dangers of indulging in addictive drugs.