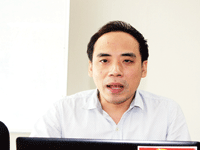 The market for pickup trucks in Laos is growing in line with people's lifestyles and their links to agriculture, according to an auto company official.
Mr. Nouxay, of the Daehan assembly factory under the Kolao Group, said they expected sales of the locally made pickup to hit 10,000 vehicles by the end of this year.
That would represent an increase of around 20 percent compared to last year's 8,000 pickups sold while its share of the pickup market has continued to grow to 26 percent in Laos.
Mr. Nouxay said the Kolao Group had now created its own brand "Daehan" which with the exception of the chassis was assembled in Laos from imported parts, after the government banned used-car imports partly over environmental issues.
Daehan has the potential to produce its full capacity of 40,000 vehicles a year by pushing exports to regional markets.
This year Daehan is targeting the assembly of 10,000 pickups, aiming to expand into markets in Vietnam, Myanmar, Cambodia, and Pakistan, Mr. Nouxay said.
Recently, the company sent two sample Daehan pickups to those countries to test the market and received good feedback.
If all goes as planned, Daehan will export pickups starting next year, but is unsure how many will be ordered.
Presently, the Lao pickup market is highly competitive with numerous imported brands, but Daehan believes its pickup will continue to see good sales as they have their own factory in Laos which enables customers to access after-sales services, Mr. Nouxay explained.
According to bestsellingcarsblog.com, 2,811 new light vehicles found buyers in Laos in January this year, with Toyota still holding the lion's share of the market at 44 percent, thanks to 1,236 deliveries. Local truck brand Daehan continues to progress, reaching a very impressive 26 percent share compared to 17.6 percent in 2015.
Dongfeng jumped to 6.9 percent, distancing Hyundai on 2.9 percent, with Chery at 2.3 percent and BYD also 2.3 percent.
Chinese carmakers hold 14.2 percent of the Lao market compared to 12.5 percent in 2015. Model-wise, one in every three vehicles sold in Laos is a Toyota Hilux, with the Daehan D-100 on the rise with an 11.6 percent share.
Source: Vientiane Times