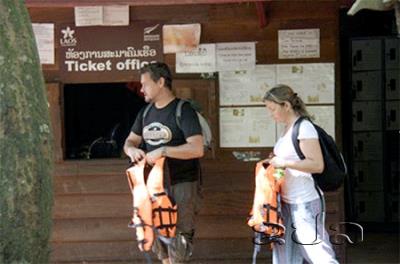 Khammuan, a central province, has recorded almost 73,000 visit arrivals over the first six months with Asians, and especially Chinese nationals topping the list.
This number reflects an increase when compared to last year. The province said that revenue generated by the visitors in the first half of this year was more than 148 billion kip (over US$18 million).
Khammuan authorities are focusing on developing sustainable tourism which encourages communities to take part in tourism management to ensure that tourist attractions in the province are protected.
Khammouane has 198 tourist sites well-known to both domestic and foreign visitors. These include 139 natural attractions, 30 cultural destinations and 29 historical sites.
Konglor Cave, the Limestone Forest, the Tam Pa Fa Cave, the Tad Namsanam and Tad Mouang waterfalls and the crystal blue waters of Khun Kong Leng Lake are among the most popular destinations for visitors.
The province will continue to focus on developing its potential tourist sites by improving the infrastructure and public facilities, and will also encourage private companies to invest in the tourism industry in the province, according to the Khammuan Provincial Information, Culture and Tourism Department.
Source: KPL