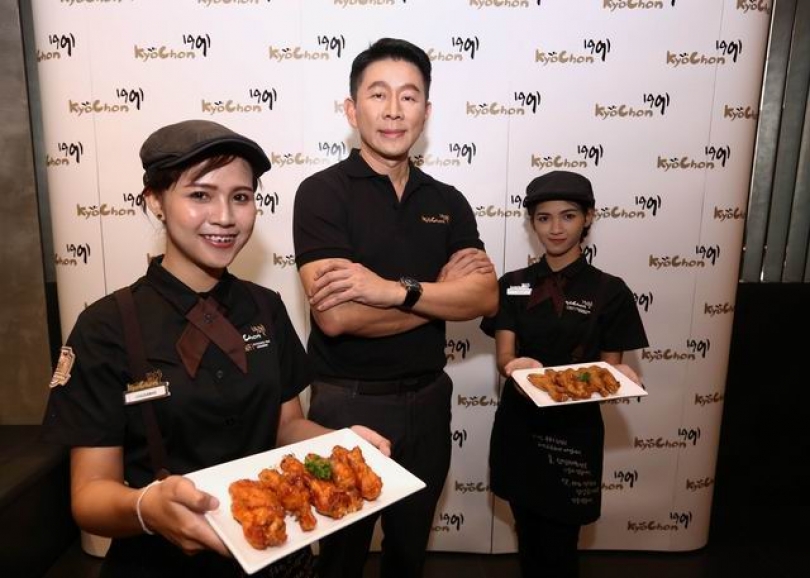 KYOCHON Chicken, a South Korea-based fried-chicken restaurant chain, has set a five-year business plan to penetrate Thailand, Cambodia, Myanmar and Laos.
Tarakorn Angpubate, chief executive officer and executive director of Food Capitals, the franchisee of Kyochon restaurants in Thailand, said the company planned to add at least 50 new outlets in Thailand over the next five years through its own investment and via franchising. Each Kyochon outlet will require between Bt8 million and Bt9 million of investment capital.
"We also have licences to operate Kyochon restaurants in Cambodia, Myanmar and Laos. We opened one branch in Phnom Penh last year through a joint venture with a local partner. We plan to open at least 25 branches in the three countries within five years, with the first branches in both Laos and Myanmar opening next year," he said.
"In Thailand, we posted Kyochon sales worth Bt51 million last year. We expect the Kyochon business to grow by more than 100 per cent to about Bt110 million this year, driven by the addition of two more restaurant branches to a total of nine by the end of 2016," Tarakorn said.
After operating the Kyochon business in Thailand for about four years, Food Capitals yesterday officially opened the seventh branch at Central Plaza WestGate to tap target customers around the western suburb of Bangkok. The new branch features a new design concept for the first time in the world. It targets 2016 sales of Bt110 million.
Tarakorn said South Korean restaurants were quite popular among Thai consumers, who tend to eat out as it is more convenient and in line with their modern lifestyle.
Moreover, consumers today are looking for quality and good taste as well as being more health-conscious, which has led to estimated growth in the restaurant market of about 7 per cent this year, from Bt385 billion posted last year. The fried-chicken segment is worth about Bt17 billion and accounts for 4.4 per cent of the total restaurant market.
Besides the new CentralPlaza WestGate outlet, there are Kyochon restaurants at six locations in Bangkok: The Paseo Town Ramkhamhaeng, MBK Center, Centerpoint of Siam Square, Market Village Suvarnabhumi, Mega Bangna, and Fashion Island shopping complex.
Source: The Nation