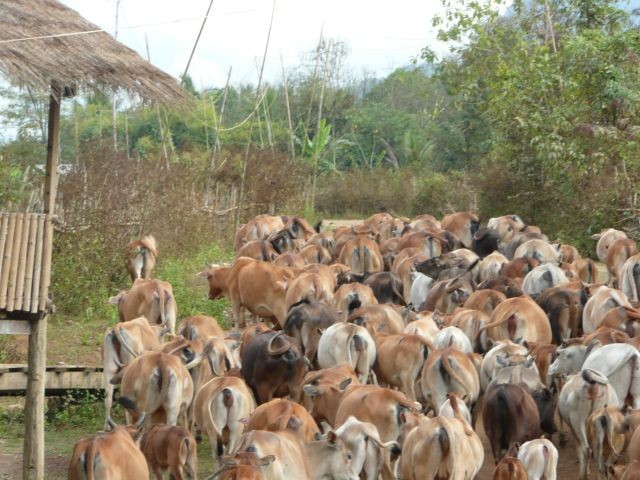 Target villages in the main beef producing provinces of Xieng Khuang, Luang Prabang, Xayaboury and Savannakhet have received benefits from the 'Development of a biosecure market-driven beef production system and enhancing transboundary livestock disease risk management projects'.
The project research team reporting on its progress said they have focused on promoting livestock breeding to ensure the local farmers have increased incomes.
The project has helped improve the health of animals by distributing vaccination for Foot and Mouth Disease virus and the Hemorrhagic Septicemia bacteria and also promoted forage planting by providing forage seeds for local communities.
There are 32 villages of eight target districts in the provinces of the Xieng Khuang, Luang Prabang, Xayaboury and Savannakhet that have received benefit from the project.
These target provinces have high large ruminant livestock density, which greater risk of transboundary diseases such as Foot and Mouth Disease hotpots.
Objectives of project include to improve beef value chain competitiveness and market-oriented production approaches, as well as to understand and strengthen reproduction and breeding management.
The project research team yesterday held a workshop to report the project results in Vientiane, the main results including improved health, production, biosecurity and marketing based on group management of beef cattle.
The project also enhanced the market chain through a price information mechanism and pilot 'quality assurance' system, along with appropriate health and productivity interventions to increase production and gain greater accesstoexistingandnewbeef markets.
In addition, it assisted institutional understanding of the most appropriate reproduction and breeding management interventions to increase the supply of beef animals.
Director General of Livestock and Fisheries Department Dr Somphan Chanphengxay and ACIAR Research Programme Manager, Animal Health Dr Michael Nunn chaired the workshop.
During the workshop, all of participants discussed and recommended future research activities.
They discussed together the transition pathway between livestock keepers and more market-oriented producers, which requires substantial improvements in farmer knowledge and practices of livestock husbandry, disease prevention and marketing.
The project in Laos commenced on May 2015 and will be finished on May 2019.
It is being organised the by Livestock and Fisheries Department from Lao Ministry of Agriculture and Forestry and the University of Sydney in Australia, and funded by Australian Centre for International Agricultural Research (ACIAR).
Source: Vientiane Times