Food Prices Stable in Vientiane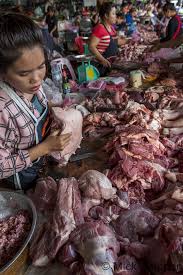 Prices of meat, fish and vegetables were found to be consistent and stable in local markets in Vientiane, Laophattana newspaper reported yesterday.
The findings were revealed by the journalists of the newspaper after they carried out inspections in local markets from August 15- 16.
Food prices were stable due to it being the Buddhist Lent period and therefore not many social events happening which has caused the number of customers to decrease.
The price of beef was sold at 70,000-75,000 kip per kilogramme, pork at 30,000-40,000 kip per kilogramme, chicken and duck at 35,000-45,000 kip per kilogramme. Tilapia was sold at15, 000-18,000 kip per kg, and frog and eel at 50,000-70,000 kip per kilogramme. The price of onion and coriander at 20, 000-25,000 kip per kilogramme.
Source: Vientiane Times