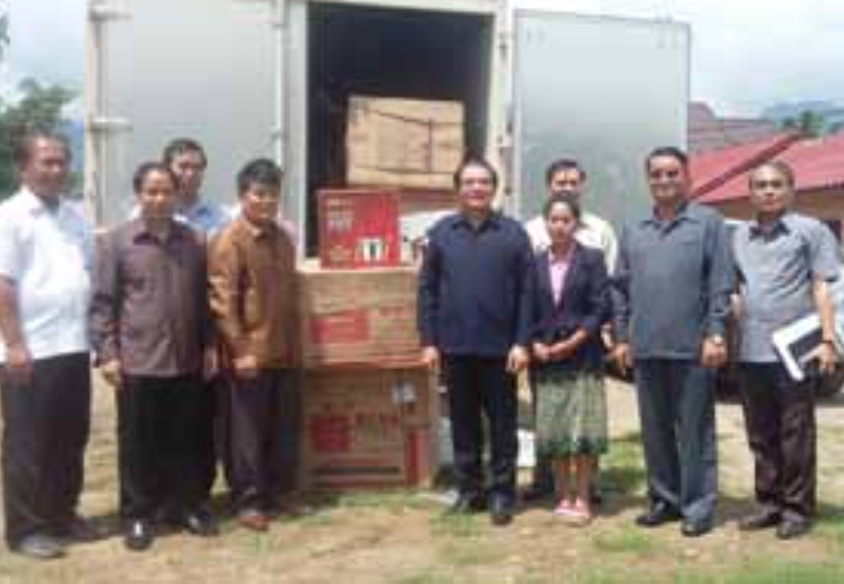 The National Committee for Disaster Prevention and Control has provided 200 million kip in disaster assistance to people in Luang Prabang province who were impacted by flash flooding after heavy rains over the period from August 8-21.The Minister of Labour and Social Welfare, Dr Khampheng Xaysompheng, Deputy Minister of Natural Resources and Environment, Mr. Bounmy Phoutthavong and other concerned officials teamed up on Monday to deliver drinking water, household essentials as well as emergency cash payments to the affected victims.
The assistance, valued at 200 million kip, was handed over to Luang Prabang authorities, who will be responsible for disbursing it to flood affected residents.
According to provincial authorities, a total of 127 villages, 569 houses and 3,192 families suffered flooding to various extents. Some 69 houses suffered serious damages and 31 were washed away. More than 187 hectares of rice land, 88 hectares of fruit plantations, and over 67 hectares of other plantation crops were also affected. The flooding also saw damages sustained by 41 irrigation channels, 16 bridges and 27 irrigation dams.
Tragically, four people were also killed during the flooding, according to the provincial authorities. The victims were reportedly trying to cross a river when they were swept away by the currents.
Many state organisations and private businesses have offered assistance to help the victims of the recent flooding but as yet it is not sufficient to assist all of them.
This year other northern provinces such as Bokeo, Xayaboury, and Oudomxay were also affected by similar flooding but not all reports have been compiled as yet. Some 139 families in the three districts of Houayxai, Pha-Oudom and Paktha were affected, the Bokeo provincial social welfare section deputy head, Mr. Phousy Lattanaphak reported.
More than 200 hectares of upland and wet season rice within the districts were damaged and almost 100 livestock and poultry deaths were reported.
Some district roads were also damaged, especially in Paktha and Pha-Oudom, which suffered from landslides and washouts.
At present, local authorities are continuing to collect information on the damage in order to seek assistance, Mr. Phousy said. In Xayaboury province, four villages of Hongsa district were the worst affected. Those were Napoung, Khaenkham, Sibounheuang and Phonsoung, the provincial social welfare section head, Mr. Nouphone Xaypanyachit reported.
More than 70 families or 891 people who live along the mountains and rivers have been impacted by recent flash flooding, he said.
The heavy rains flooded 170 households, damaged 4.5 hectares of rice, killed 624 poultry and saw 15,000 fish escape from their fish ponds.
Roads and irrigation channels were also damaged but there are no estimates on the expected costs as yet. The provincial authorities have already provided initial assistance to victims by handing over drinking water, rice and some necessary equipment, Mr. Nouphone said.
More than 2,000 families in 25 villages of Houn district, Oudomxay province were also impacted and over 2,000 hectares of rice, sweetcorn and some cash crops were lost.
Baeng district also suffered losses but has yet to report to provincial authorities.
Source: Vientiane Times