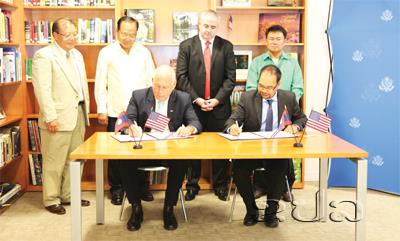 As U.S. President Barack Obama arrives in Laos for his historic visit, the United States has agreed to provide a large grant for a 20-megawatt solar power plant feasibility study in the Lao PDR that could power up to 30,000 households.

The grant agreement was signed here yesterday by U.S. Ambassador Daniel A. Clune along with Regional Manager for Asia of United States Trade and Development Agency (USTDA), Mr Mark Dunn, and American businessman Robert Khoonsrivong.
Once fully realized, the project would be the first large-scale, non-hydro renewable energy project in the Lao PDR, supporting the country's goals of diversifying its energy mix.
The USTDA grant will help Pacific Star Capital Ltd, a privately owned Lao company, evaluate the technical and commercial viability of the project and provide the detailed technical analyses necessary to secure financing for construction and operation.
Renewable Assets LLC, headquartered in Alexandria, Virginia, will conduct the study. Implementation of the project could increase the national power supply in Lao PDR and provide a natural complement to Laos' hydropower during the low-flow dry season.
The project would support both the Lao PDR's energy sector strategy and clean energy development in Southeast Asia.
The agreement is the U.S. Trade and Development Agency's first grant within the Lao PDR, and is emblematic of the growing bilateral relationship.
President Obama's three-day state visit to Laos will showcase the expanding economic ties, as well as many other areas of growing collaboration between the United States and Laos.
Source: KPL