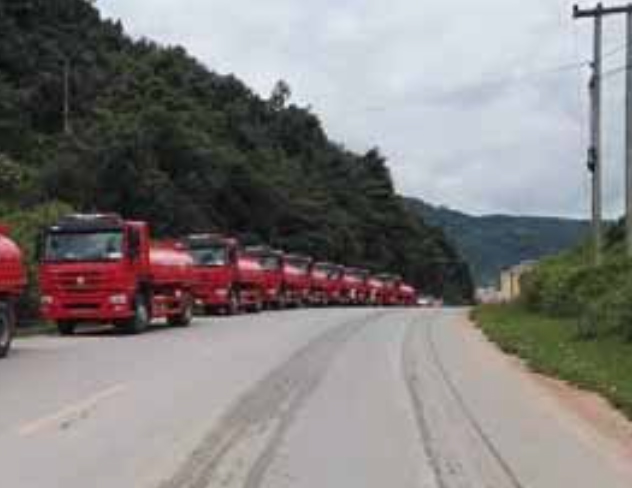 The government recently ordered 50 fire trucks from China, which are expected to be distributed to fire prevention and protection teams in urban and rural areas wherever they are needed.
All of the purchased fire trucks are now waiting to be officially handed over by the authorities, after which they will be put into service to help local communities in the event of fires or other emergencies.
Head of the Vientiane Fire Prevention and Protection Police Department, Lieutenant Colonel Chanthaboun Manyvong, told Vientiane Times that some of the fire trucks are expected to be given to Naxaithong and Sisattanak districts in Vientiane because these districts don't have any at present.
The remaining vehicles will be distributed to other provinces with a focus on places where there is a high risk of accidental fires, he said.
In Vientiane, fire prevention and protection teams work to save people's lives and property and prevent serious damage as a result of accidental fires.
A total of 19 fire trucks are on call 24 hours a day in the capital.
Vientiane fire prevention and protection teams and several rescue teams take part in first aid, medical and fire emergency response services with training courses given twice annually.
Lieutenant Colonel Chanthaboun said his staff are also preparing to tackle fires in tall buildings such as hotels.
He added that business owners should cooperate with the department by fitting out their buildings with fire extinguishers in each room so that people can stop a fire quickly before it spreads.
Besides that, the Vientiane Fire Prevention and Protection Police Department visits local communities in areas at high risk of fires such as those located on narrow roads and in crowded areas.
If possible, households should be equipped with a fire extinguisher so they can put out a fire quickly, and old electrical wiring and fuse boxes should be checked and replaced if not serviceable, the department warned.
The department has fire trucks of various sizes in order to be able to respond even in areas where access is difficult.
Source: Vientiane Times