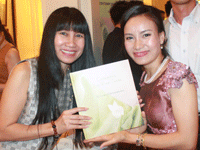 Phaeng Mai Gallery and Khang fashion label owner, Ms Viengkham Nanthavongdouangsy has launched a new book Contemporary Lao Woven Textiles to encourage renewed public interest in the traditional art form.

Through the book readers will gain knowledge about Lao weaving techniques and how they are being adapted and reinterpreted in modern styles helping to preserve the nation's cultural traditions.
Ms Viengkham hoped the book would generate more interest both at home and abroad in textile weaving and the promotion of Lao fabrics and fashion design.
The English language book delves into the world of Lao textiles with chapter titles such as Exquisite Arch, Stately Square, Natural Influence, Contrasted Splendour, Shady Inspiration, Modified Tradition, Simplified Beauty and Texture Appeal.
Since 1993 Phaeng Mai-Khang have been encouraging young people to have a better understanding about the textile process, designing, dying and weaving that Ms Viengkham and her sister Ms Kongthong Nanthavongdouangsy have implemented.
The stunning contemporary woven designs published in the book represent the innovative work of a group of Lao designers and artisans in the textile industry in the first stage of a new era of globalisation, Deputy Minister of Information, Culture and Tourism Mr. Buangeun Xaphouvong states in the book's preface.
Contemporary Lao woven design started its new chapter in the history of Lao textiles from the late 1990s when the idea of the global village became popular. Kongthong and Viengkham Nanthavongdouangsy, two sibling designers, were amongst the first group to demonstrate their talent using this new aesthetic approach, Mr Buangeun explained.
Contemporary Lao Woven Textiles is published by Khang and Creative Seven Arts featuring text by Viengkham Nanthavongdouangsy, design by Society Corporation, photos by Jean- Dominique Martin and Micka Perier, and edited by James Rehm.
It's available at Phaeng Mai Gallery and Ministry of Silk for 280,000 kip with 20 percent of sales supporting the Lao Young Designer Project.
Source: Vientiane Times