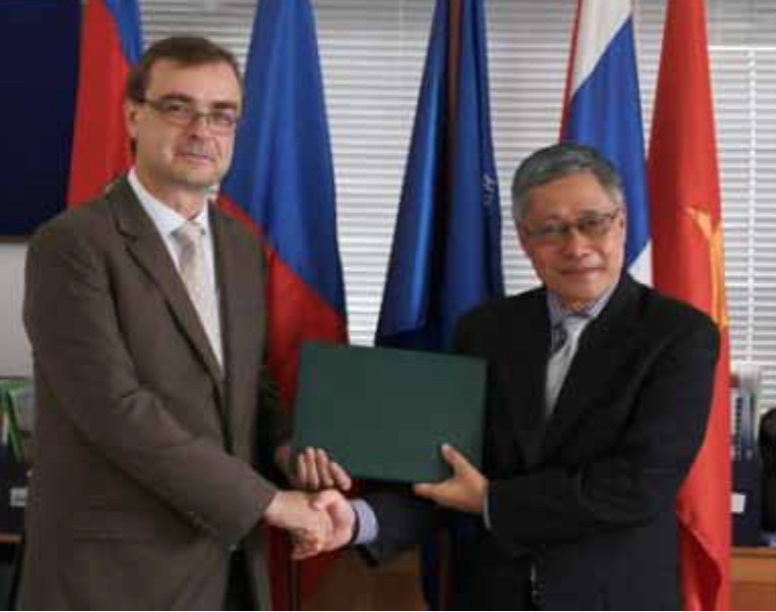 The government of Luxembourg has granted 1 million euro to the Mekong River Commission to support its strategic work over the next five years.
The grant agreement was signed in Vientiane on October 14 by the Chargé d'Affaires of the Embassy of Luxembourg in Vientiane and the Head of the Development Cooperation Office for Laos, Myanmar and Vietnam, Mr. Claude Jentgen, and the Chief Executive Officer of the MRC Secretariat, Mr. Pham Tuan Phan.
This is the second grant given to the MRC by Luxembourg since 2011. "Due to the MRC's pivotal role with regard to regional cooperation in the Mekong River Basin, Luxembourg has provided continued support to the Commission since 2011, including to the Climate Change and Adaptation Initiative," Mr. Jentgen said.
"Many of the core challenges in the river basin, especially with regard to climate change and hydropower development, can only be addressed effectively and sustainably through informed cooperation between riparian countries, and the MRC provides competent and effective support to its member states to this end."
During the last strategic cycle of 2011-2015, Luxembourg's contribution directly supported the implementation of the Climate Change and Adaptation Initiative and the MRC's flagship study on sustainable management and development of the Mekong River including the impact of mainstream hydropower projects.
For the strategic cycle of 2016- 2020, Luxembourg's grant along with other donors' contributions will be put into the MRC's basket funds for implementation of this new five year strategic plan.
"Cooperation between Luxembourg and the MRC began in 2011. We appreciate Luxembourg's continued support to strengthen regional cooperation in the management of shared water resources. It will help us achieve the MRC's strategic goals for sustainable development in the region," Mr. Pham Tuan Phan said.
During this strategic cycle of 2016-2020, the MRC will focus its work on four key result areas such as strengthening regional cooperation, improving monitoring and communication of conditions in the basin, enhancing national plans and projects, and turning the MRC into a leaner, more efficient organisation.
The MRC serves as the region's only river basin organisation that supports the sustainable management and development of shared water resources for the countries' mutual benefit and the well-being of the 65 million people living in the basin.
Source: Vientiane Times